Granada Wrestling First in EBAL and Fourth in NCS, Ready for State
On February 2, 2022, Granada wrestling beat Dougherty Valley in the Valley Division EBAL Dual Meet Championship. The championship meet happened at Granada high school and Granada beat Dougherty with ease, with the final score being 72-9. Granada had an impressive 11 pin downs and only got pinned once by Dougherty. Along with Granada winning the EBAL dual championship, Granada placed fourth as a team at D1 NCS duals. 
To add to Granada's performance, this was their third consecutive EBAL title. Granada has not lost an EBAL league dual since January of 2018, which is a great way to start the postseason. 
"We didn't win it with just our elite level wrestlers, we won it with our wrestlers that are lacking experience and knowledge of the sport" said head varsity coach Sean Jackson. 
Granada is now looking to have players qualify for the state tournament in the coming weeks and make a name for themselves. 
In addition, prior to the end of the regular season, the Mats traveled to Ukiah for the Redwood Empire Classic tournament in Ukiah and wrestled exceptionally well. Girls placed 2nd overall, while the boys placed 9th overall.
Last year there was no wrestling season due to the pandemic, and with gym time being spread out between multiple teams that played indoors, it was tough for the wrestlers to get quality time in the gym consistently. Because of this, the freshman of last year got little to no experience of what it's like to be in a full wrestling season.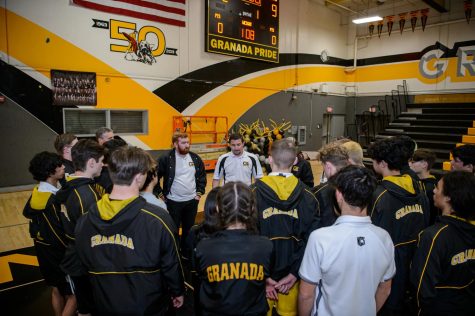 "Our sophomores, they've never gone through a whole high school season, so this was almost like a freshman year campaign for them." With these unpreventable struggles, Coach Jackson described the season as a "Roller coaster"
Coach Sean Jackson said that winning the EBAL championship is "not really a goal of ours. It doesn't mean a ton in a sense because our goals are NCS and CIF state." 
Coach Sean Jackson has been wrestling since he was a kid and has been a part of the Granada program for 11 years. This season coach Jackson has tried to push two main messages over the course of the season – play the long game and growth mindset. 
Coach Jackson stresses the importance of having a growth mindset and makes improving the most important goal for his players. "If you lose then you can learn from that situation. A loss can be looked at in many different ways, but our goal isn't to have everyone go undefeated all year. If you take winning and losing too hard it starts to wear on you mentally, and you stop getting better at wrestling, so our growth mindset is super important."
The EBAL championship is not the end of the road for Granada wrestling this year. Coach Jackson wants to set the most number of CIF state qualifiers the program has ever had (previous is five) and qualify seven to eight wrestlers to the state tournament. 
Coach Jackson wants the Granada program to know that by the time wrestlers complete four years, they're ready for college wrestling in some capacity. Granada's performance and coaching shows that anybody who participates in the Granada program is going to know how to wrestle successfully and properly.