Athlete of the Week: Yvo Yambao
Wyatt Krauss, Reporter, Photographer, Editor
January 28, 2022
This week's featured athlete for Granada is Yvo Yambao, a current sophomore and junior varsity basketball player. Nearing the end of the season, playing basketball has made an incredible impact on Yvo, and he is proud to be part of the team.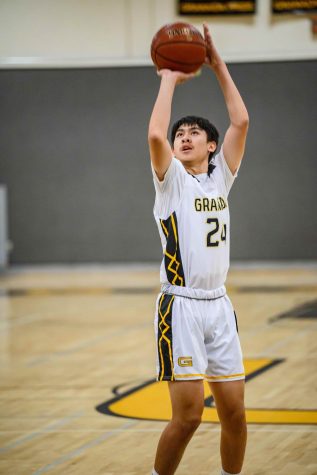 Since his introduction to the sport in the 1st grade, Yvo Yambao fell in love with basketball as it is now his primary commitment aside from academics. Over the course of the winter season, Granada's JV team has made great efforts to continue working hard to battle rival teams.
When asked what motivates him, Yvo replied with "watching the professional basketball level gives me a perspective of what I can achieve, and how I can always work harder." His teammates and coaches have built a strong team-wide bond, which creates the feeling of family rather than simply a team.
"I get my homework done first, always," he explained. Yvo finds a way to make sure school comes first while keeping up the responsibility of being a student-athlete. In his freetime, you can likely find him practicing on the court. Playing college basketball would be a total dream of his, which is also a big motivator for Yvo. Basketball has instilled in him the importance of working hard and setting goals. We are very forubante to watch Yvo Yambao continue with his passion. Congratulations!