Boys' Basketball Season Recap
This school year, the boys' varsity basketball team had their best season in Granada history, making it all the way to the state championship. With the season now over, the coach and players gave us some insight into why the team was so successful.
The Granada boys' varsity basketball team is led by Coach Q who's been coaching and teaching at Granada for nine years. Coach Q was a huge reason the boys were so successful, constantly motivating and helping his players. Kevin Grant, a shooting guard, commented, "He was probably the big reason why we were so successful this season. He's a great coach, pushes all of us to be better, he's a key piece of the team."
On March 7, the team won the NorCal Division I championship against Salesian College Preparatory, sending them to the state championship and making Granada history. It's the first time in 25 years a Granada basketball team has made it to the regional championship. Granada cinched the win in the final quarter with a three-pointer from senior Kevin Grant and a series of free throws.
It's clear by their record that this is one of Granada's best basketball teams in years. Coach Q spoke on the success of his team, saying, "I think we had a really good group of kids. They all really enjoy being around each other, they were hardworking, they were coachable, and they were just a really good group of talented kids."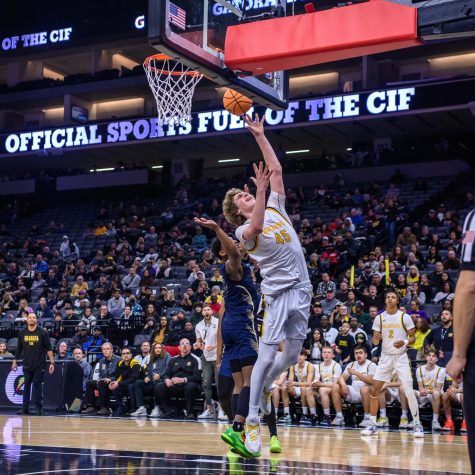 On March 10, the team traveled to Sacramento and played against Notre Dame High School in the state championship. It was an amazing experience for all, with Kevin Grant stating, "It was a really great experience. Most people don't get it and it was really fun."
Coach Q added to Grant's statement, saying, "It was awesome. It was one of the best experiences I've ever had, for myself, for the student body, for the community, for my family. It was just special, a special time in general."
One of the biggest reasons for the team's success was the players' ability to work together. Coach Q explained that all of the players worked great together and persevered through the long season, staying motivated and staying focused. Grant added to this, explaining, "I think we all work really well together. We've got really good shooters…we've all been working together for a really long time."
Coach Q made sure his team was ready for the regional and state championships and worked hard to shape his players into what they needed to be. He also cares about knowing his players and making them the best they can possibly be. "Knowing them is a big strong suit of mine, I take a lot of time to get to know my players. Some of them need a good push, some of them need encouragement, some of them just need to be reminded of how talented and special they are."
This was an amazing season for the boys' varsity basketball team and we hope to see that success next season as well. With Coach Q at the helm and plenty of athletes ready to prove themselves, Granada's basketball team is sure to only improve.