What is Omicron?
Early research known about the newest Covid variant
Omicron, discovered by South African scientists, is the latest variant of Covid-19. Cases have been reported in 50 countries, it infects people faster than other variants, and the World Health Organization has deemed it a "variant of concern". Could it send us back into quarantine?
On November 24th the WHO was notified of the new Omicron variant, discovered by scientists in South Africa. Immediately the world went into a panic and Omicron has already been found in countries in Africa, Europe, Asia, and the Americas. The World Health Organization quickly labeled it a "variant of concern" with WHO officials saying, "[This] variant has been detected at faster rates than previous surges in infection, suggesting that this variant may have a growth advantage." As cases were found across the world, many countries put in place travel bans from African countries such as Germany, Switzerland, Japan, Israel, and the United States. On November 29th President Joe Biden informed reporters that the U.S. would respond to the Omicron variant, "not with shutdowns or lockdowns, but with more widespread vaccinations, boosters, testing and more." As cases rose in other countries, the United States reported its first Omicron case on December 1st. The first U.S. case was in San Francisco, found in a man who had recently returned from a trip to South Africa. By December 2nd it was reported that Omicron had been detected in 50 countries, including Canada, Brazil, countries in Africa, countries in Asia, and the majority of Europe. The U.S. currently has travel restrictions on the southern African countries where cases were first reported.
Omicron has spread fast and now is in at least 19 U.S. states, with over 100 cases nationwide. This might not sound bad at first, but Omicron is still concerning as one WHO official stated, "This variant has a large number of mutations, some of which are concerning. Preliminary evidence suggests an increased risk of reinfection with this variant, as compared to other" variants. A majority of the U.S. Omicron cases have been found in people traveling back from South Africa, but others have been spread through the community. One infected person caught the variant when attending a New York anime convention, who subsequently spread it to their family. As fears of the variant rose, we were unsure as to whether the vaccine was weak against Omicron, but as of December 8th the first lab results were released.
What the results show is that this variant can evade the protections of disease-fighting antibodies. This means that people who have already caught COVID-19 could get it again and that breakthrough infections could arise in the vaccinated. But the bad news comes with some good as a study released on December 7th showed that the Pfizer vaccine can still protect against Omicron. The vaccine's power is weakened somewhat when up against the variant but that it still has the ability to defend us from Omicron; and that the booster shots will play a key role in the fight against the latest variant. It is believed that with the vaccine plus the booster shot that it will be enough to protect us from Omicron. This makes booster shots even more vital than before and anyone who qualifies for it should get it.
Although the vaccine is still effective against Omicron, pharmaceutical companies are looking into whether they need to create an Omicron-specific shot that is stronger against this variant. With some research done on the variant we still don't know whether Omicron will lead to worse side-effects or possibly be more lethal. According to Michel C. Nussenzweig, an investigator at Rockefeller University, "We don't know what will happen with hospitalization or severe disease. If vaccines are keeping people out of the hospital and are making what could be a bad disease into something like a common cold, or something a bit more severe but not life-threatening in any way, then we're good." Many scientists are saying there is not a need to panic as the new research helps us understand the threats of Omicron more. The new reports show that boosters could become very important in the prevention of this variant.
Scientists are also more confident now that we have data on Omicron. Benjamin Neuman, a virologist at Texas A&M University, stated, "It looks like quantity of antibodies will overcome the natural resistance of omicron, and that is a very good thing… Boosters not only let the body make more diverse antibodies, they also raise antibody levels. In other words, Omicron may be vaccine-resistant, but it is not booster-proof." Data from the WHO shows that Omicron is more transmissible but is not more likely to cause severe disease, yet it may take more time to see if Omicron harbors the same threats as past variants such as the Delta variant. We can not completely say how big of a threat Omicron could become. John P. Moore, an immunologist at Weill Cornell Medicine, says it will take several more weeks to see how badly Omicron affects those who are already vaccinated.
Even with the threat of Omicron becoming bigger and bigger, it is still important to take all possible protections against COVID-19. Wear your mask, wash your hands, avoid large gatherings, and if you're eligible get the vaccine. Past COVID-19 variant cases rose because of a lack of understanding and concern for the virus. To continue to take all precautions against the virus is the best way you can avoid catching Omicron. For updates on the new variant you can check the WHO or CDC website or look for updates in the news. Omicron is one of the most concerning variants yet so remember to wash your hands, wear a mask, and stay safe.
View Comments (1)
About the Contributor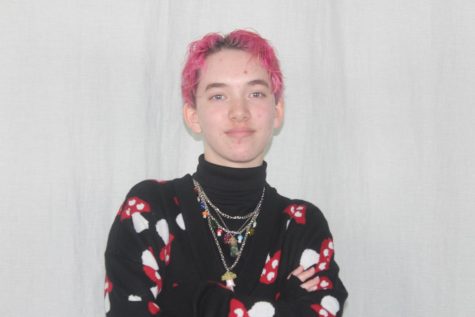 Tyler Hayley, Reporter, Editor
Tyler Hayley is part of the Granada High School class of 2025 and has been writing for The Pomegranate since 2021. He is a member of the Model United Nations...