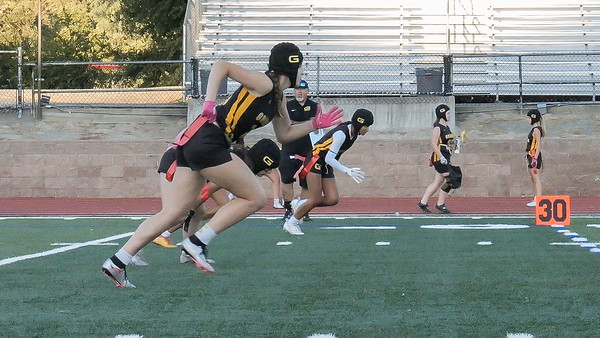 This year at Granada, we have a new girls' flag football team. With over 50 girls out there, many are eager to play. This past Wednesday, the 6th, the girls played against College Park and won.
Jamie Martin, from the girls' varsity team, shared how she feels about the team's first win. When asked how she felt she did in the game, she said, "I think I did pretty good for it being my first time ever playing, I was able to catch and do just fine."
Jamie also said, "I'm really excited that Granada put together a flag football team, especially because they are allowing even freshmen to play against other varsity teams." Jamie believes that the team is doing really well because of their victory and is excited to get better and have fun.
This is the Granada Girls' flag football team's first win of the season (12-6), and hopefully there will be many more. The girls that were interviewed were pleased and excited they had won.
Story continues below advertisement
Isabelle Dunn, another player on the flag football team, shared her insight before the game began. At the question "How do you think the team will do?" Isabelle stated, "Good, we all have [the] passion to win and want to go to championships really bad." She also shared what she was most excited about during the season, saying, "The new relationships I'm gonna make as a freshman; I get to make a lot more friends in different grades." Both the players are excited about the new opportunities.
The girls are excited for the new team and we are sure they will bring home many more victories for Granada.