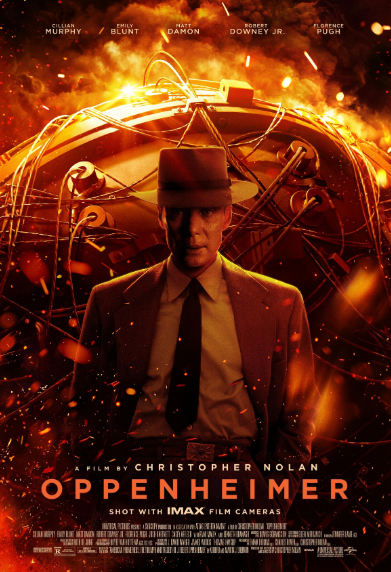 From Spider-Man: Across the Spider-Verse to Barbie, this was a summer of blockbusters. The latest film from director Christopher Nolan, Oppenheimer is a dramatic re-telling of the life of J. Robert Oppenheimer. And while the film had some big competition, it came out on top. With amazing directing, a fantastic cast, and great writing, Oppenheimer is the movie of the summer.
As soon as the cast of Oppenheimer was revealed, it was clear it would be a success. Cillian Murphy does a wonderful job with his portrayal of Robert Oppenheimer and is compelling in every scene he's in. He had great support from Matt Damon, as General Leslie Groves, and Emily Blunt, as Kitty Oppenheimer. Damon was surprisingly great and not only brought a lot of intensity to his role but was fantastic in his interactions with other characters. Blunt took her scenes to another level and left us with an ending that was perfect for her and Oppenheimer's storylines.
But, the real stand-out performance came from Robert Downey Jr. as Lewis Strauss. RDJ was the perfect pick for this role and drew me in from his first appearance. He brought the emotion this role needed and was riveting with every line delivered. With such captivating and spectacular performances from everybody, I see plenty of Oscar nominations in the future.
This is certainly Nolan's best work yet as he took a cast of amazing actors, a great script, and an interesting story and turned it into one of the best films of the year. I couldn't ask for anything more as Nolan delivered with every scene. Oppenheimer has only proven that Nolan will be a defining director of our time. The writing was phenomenal and was certainly done justice by the cast. The dialogue between characters flows while still being packed with emotion and, often, tension. There are so many moments that left me with my jaw on the floor and left me thinking long after the movie was over.
Story continues below advertisement
The score was phenomenal and did an amazing job of highlighting every scene while ramping up the intensity. The score can sometimes make or break a film, and I was not disappointed; the loud, overbearing music or the lack thereof was perfect throughout the entire movie.
But, this movie is entirely worth a watch for its great visual effects. Oppenheimer is a visual masterpiece and what better scene to prove my point than the atomic blast. Recreating the first dropping of an atomic bomb is no easy feat, but Nolan delivered us a feast for the eyes. The blast is spectacularly grand without crossing into action movie territory. The visuals of this movie are incredible and have to be experienced in a theater.
Oppenheimer got everything right. From its amazing director to its perfect cast, it didn't leave me wanting more. If you haven't seen Oppenheimer, make sure to see it before it's out of theaters. And if you have seen it, it's definitely worth a re-watch. Oppenheimer was the best movie of the summer of 2023 and it will go on as an amazing film.