Livermore Reviews: The Farmers Market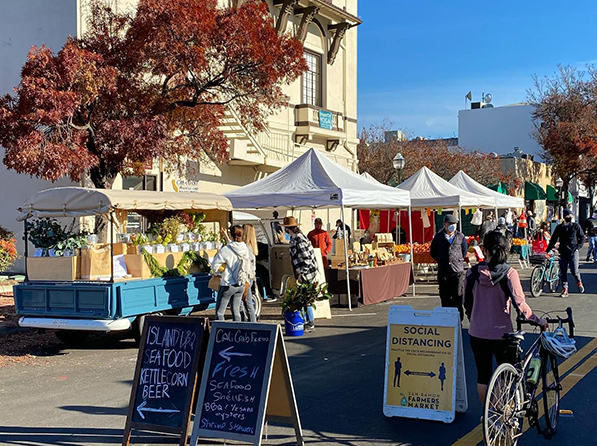 Every week Livermore hosts a farmers market. On Sundays from 9 am to 1 pm, it's a great event to support local businesses. With a mix of businesses that have their own store-fronts to ones that just pop up at the market, it's the perfect place to find some fresh produce or get lunch.
With a wide variety of businesses, from honey to hand-made greeting cards, the Livermore Farmers Market has it all. Taking place throughout Carnegie Park and on 2nd street, you can't miss it. After going myself, there is a long list of stands that I hope to see again next Sunday. Head to Airborne Roasting for a fresh cup of coffee or tea, and if you really like it, you can buy a bag of their coffee beans for yourself. Want a sweet treat? There are plenty of businesses selling baked goods, such as Dan Good Cookies or Passion Pastry. Passion Pastry has delicious home-made alfajores perfect to share with friends and family or to snack on while exploring the market.
There's also an abundance of stands all about arts or crafts. Mae & Skye Co. is a local business with hand-made accessories, such as bows and scrunchies. Another delightful booth, Holiday Pop sells hand-crafted pop up cards, perfect for any occasion. You can't help but appreciate the artistry when gazing upon a table laden with paper pandas, trees, and dogs; all popping out of a card. There's many businesses such as these selling great home or self-care products such as plants, aprons, and hand-made masks.
A staple of any farmers market, there are plenty of stands selling fresh fruits and vegetables. All from local farms, it's a great spot to pick up some new ingredients for that week's dinner. With stands selling honey, vegetables, and eggs, you'll find anything that you might need. A sure thing every week at the Livermore Farmers Market is the food. You'll find an entire corner of the market is dedicated to food stands and food trucks. Grab lunch from any of these businesses where you can find freshly made dumplings to an array of authentic Mexican dishes, cooked fresh for every customer.
No matter what businesses are in or out, you can be sure that you'll find something great at the farmers market. Supported by local citizens who want to see local businesses grow, whenever you're at the Livermore Farmers Market there's always a positive mood in the air. So be sure to visit the farmers market on Sundays to help support local vendors as well as exploring a little more of Livermore.