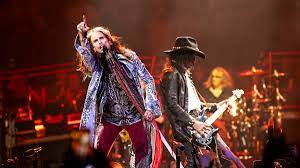 Popular classic-rock band Aerosmith has recently started their final tour. Titled "Peace Out: The Farewell Tour", this will be their 33rd, and final tour. The tour began on September 2 of this year and is currently set to finish on February 29, 2024, in Cleveland, Ohio. 
Aerosmith announced their final tour on May 1 this year. The band posted on Instagram saying "PEACE OUT! After 50 years, 10 world tours, and playing for over 100 million fans…It's time for one last go!" The tour will take place all across North America and consists of 37 concerts. Opening for the tour is fellow American rock band The Black Crowes. Joey Kramer, the band's drummer, will not be participating in this tour so that he can "Focus his full attention on his family and health". 
Aerosmith has also had to postpone several shows due to lead singer Steven Tyler sustaining vocal cord damage. Tyler commented saying: "I'm heartbroken to say I have received strict doctor's orders not to sing for the next 30 days." he went on to say "I sustained vocal cord damage during Saturday's show that led to subsequent bleeding. We'll need to postpone a few dates so that we can come back and give you the performance you deserve." The tour was originally scheduled to end on January 26, 2024, in Montreal, but has now been rescheduled to have its final show in Cleveland, Ohio on February 29, 2024.
Story continues below advertisement