Victor Schwartz, a prominent member of both Granada High School's Orchestra and Jazz Band, has been accepted into the Oakland Youth Symphony Orchestra (OYSO) as of last year, where he takes on the prime role of being the principal leader for the french horn section.
Victor's musical journey began when he was in the fourth grade, beginning not with a brass or woodwind instrument, but instead with strings, more specifically, with the ukulele. It wasn't too long after when he began to teach himself how to play the violin, doing so by ear with a violin gifted to him by his grandmother, who played violin professionally before him. 
Once he was introduced to the vast world that is music, he wasted no time in joining ensembles, playing in not only the Granada High School orchestra but also playing in the Livermore Amador Youth Symphony, playing in several pits for different plays as well as horn in the Livermore Symphonic Band. Victor taught himself how to play a variety of other instruments along the way, ranging from viola to guitar, to clarinet and trumpet, and many in between, including French horn, which was how he landed at OYSO.
"They were in desperate need of more horn players, for this reason I was referred to the conductor of the symphony itself. Normally, the way auditions work is that you are given the material along with a certain set of time in which you are to learn it and
Story continues below advertisement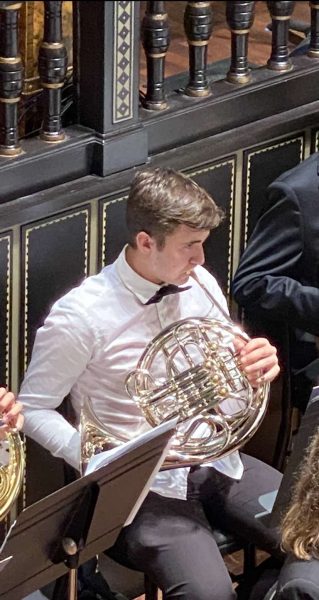 basically master it, and you are then asked to come back to audition usually a few weeks later," said Schwartz.
But with unfeigned determination and high spirits, he decided to take every chance possible at this very moment. "'How about I just do my audition right here, right now. I'll just sight-read everything'. I told them, and that's what I did. I played a solo piece that was originally meant for violin on my french horn, simply because I already had the piece memorized, and I played it- and I got in."
While to most, the switch from a high school orchestra atmosphere to a professional one would be rocky and considerably intimidating, Victor describes it to be not as intimidating as he thought it would be, considering he enjoys playing real concertos and not simplified variations as he tends to play in other orchestras. He went on to explain how being accepted into such an esteemed ensemble opened many doors of opportunity for him, giving him the confidence to apply to prestigious music conservatories and schools along the East Coast of the United States, including The Juilliard School, Berkeley Music Conservatory, and the Curtis Institute of Music, where he dreams to study music composition and become a composer.
Although nothing could compare to his time in Europe with OYSO this past summer, touring to Prague, Vienna and Budapest, where he was surprised to see that shows were sold out. "It was a bit surreal." He explains. "I don't even know which was better: to be surrounded with so many talented musicians, or to be surrounded with a sea of people who were eager to hear us play. It seriously did not feel real to be a part of something as big as this. The season is about to begin as well, we're going to be playing Tchaikovsky's fifth symphony, and I don't think a word exists to describe how excited I am."
When questioned whether there was ever the possibility of him becoming spent pursuing music or playing musical instruments in general, all he had to say in response was: "Music is something that I've always enjoyed and I never felt it to be extremely stressful, I mean sure, there are definitely times where it can be, but if I weren't doing music, I'd probably be doing political science. I decided to pursue music instead, because the thing is that if I were to get a degree in political science, I know that I would wind up getting a desk job, I'd be sitting around being upset at the state of the world, and in truth, there is very little I could ever possibly do to fix any of that. I thought I would instead prioritize my happiness, because I know for a fact that whatever I do with music, I will enjoy it. Even if I earn little money. Even if in the end I don't make a name for myself. I would be doing what I cherish most dear, and that is… alright by me."