Black History Month: James Baldwin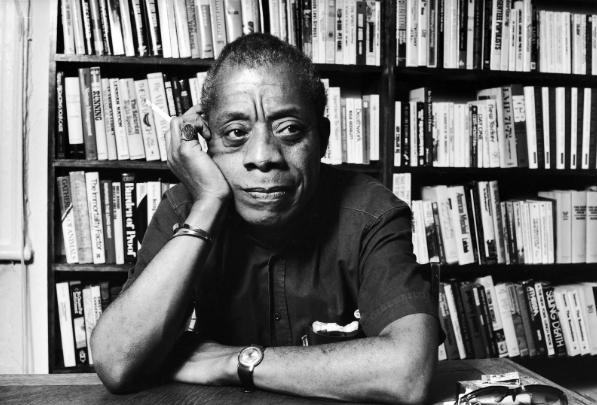 This week for Black History Month, we honor James Baldwin, a renowned writer. Let's look back at his legacy and his impact on the civil rights movement.
James Baldwin was born on August 2, 1924, in the Harlem neighborhood of New York City. He was born to a single mother Emma Berdis Jones, although, later Emma would marry David Baldwin, a minister, when James was three years old.
In his teens, Baldwin found a love for reading and writing and spent much of his time at the library. While attending DeWitt Clinton High School, Baldwin wrote for the school's magazine and published many poems, short stories, and plays for the magazine. At a young age, he demonstrated an understanding of sophisticated literary devices that would be apparent in his later works.
From the age of 14 to 16, Baldwin served as a youth minister in a Harlem Pentecostal church, following in his stepfather's footsteps. Baldwin graduated high school in 1942 but couldn't attend college as he had to help take care of his family, which by this point included seven other children. He had to take many odd jobs, including laying railroad tracks in New Jersey for the U.S. Army. Baldwin struggled to find good work due to discrimination and was often turned away from restaurants, bars, and other establishments. After losing his railroad job, Baldwin struggled to find new work.
David Baldwin died on July 29, 1943, the same day Baldwin's eighth sibling was born. Depressed after the death of his stepfather, Baldwin moved to Greenwich Village in New York City, an area known for its many artists and vibrant culture. Baldwin, again, had to take many odd jobs to support himself until he befriended writer Richard Wright. Wright helped Baldwin find a fellowship in 1945 to help support him.
In 1945, Baldwin started publishing essays and short stories in national periodicals such as The Nation, Partisan Review, and Commentary. Three years later, in 1948, Baldwin, now 24, uprooted from New York and moved to Paris, France. Paris is where Baldwin would write many of his famous works that focused on his personal life and experiences as a black American.
Baldwin published his first book, Go Tell It on the Mountain, in 1953. A semi-autobiographical book, the novel focused on a man growing up in Harlem who struggled with religion and the death of his father. In 1955, Baldwin published one of his most famous works, Giovanni's Room. The novel, about an American living in Paris, is known for its depiction of homosexuality, a topic that few discussed in the 1950s. Baldwin would become known for exploring queerness in many of his books, including another famous work, Just Above My Head (1978). Baldwin often wrote about both homosexuality and interracial relationships, something that was groundbreaking and controversial for the time.
Baldwin embraced his identity and was open about his homosexuality, having relationships with both men and women. He believed human sexuality was fluid and far less binary than depicted and didn't believe in labeling himself. Baldwin also wrote several plays, starting with The Amen Corner, an examination of Pentecostal religion, that he wrote at Howard University in 1955. The play later hit Broadway during the 1960s.
Although he worked on many novels and plays, Baldwin is most famous for his many essays which made him one of the top writers in the U.S. His essays normally were about the black experience in America. Such works include Notes of A Native Son from 1955 and Nobody Knows My Name: More Notes of a Native Son from 1961. Nobody Knows My Name was notably a best seller that sold over a million copies.
His willingness and ability to write about the experiences of African Americans in the U.S. made him a leader of the Civil Rights Movement. In 1963, Baldwin published a series of essays, The Fire Next Time, that critics noted was different from his other writings. The collection of essays was written to educate white Americans about the experiences of black Americans living in the U.S. The Fire Next Time gave insight into the African American community and reached many people, selling over a million copies.
The same year as The Fire Next Time, Baldwin graced the cover of Time magazine. In the article about Baldwin, Time wrote, "There is not another writer — white or Black — who expresses with such poignancy and abrasiveness the dark realities of the racial ferment in North and South."
Baldwin wrote another play, Blues for Mister Charlie, which was partially inspired by the 1955 murder of Emmett Till and debuted on Broadway in 1964. Also in 1964, Baldwin published the book Nothing Personal, a collaboration with photographer Richard Avedon. The book was a tribute to civil rights activist Medgar Evers, who was murdered the previous year. Around this time, Baldwin also published a collection of short stories named Going To Meet the Man.
By the 1970s, Baldwin was depressed over the current state of the civil rights movement. During the 60s he had lived through the assassinations of Medgar Evers, Malcolm X, and Martin Luther King Jr., all caused by racial hatred. This depression was noticeable in his works, such as in the 1972 collection of essays, No Name in the Street. During this time, Baldwin also worked on a screenplay of The Autobiography of Malcolm X to adapt it to the big screen.
While Baldwin slowed down in his later years, he continued to publish many different works such as a collection of poems, Jimmy's Blues: Selected Poems, in 1983, and the novel Harlem Quartet in 1987. During the later part of his life, Baldwin also became a college professor and often talked about his experiences related to racism. He primarily taught at the University of Massachusetts at Amherst and Hampshire College.
James Baldwin died at the age of 63 on December 1, 1987, at his home in St. Paul de Vence, France. His astounding writing capabilities and his ability to share the experiences of black Americans made him a pioneer of the civil rights movement. To end on one of Baldwin's own quotes, "Not everything that is faced can be changed, but nothing can be changed until it's faced."