Black History Month: Althea Gibson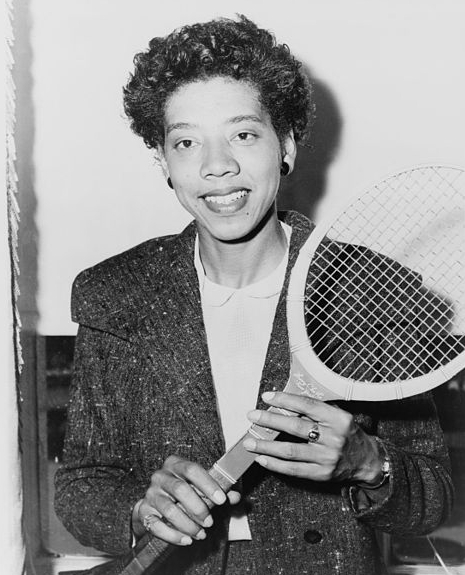 This week for Black History Month, we discuss pro-tennis player Althea Gibson. Let's look back on the athlete's history and legacy.
Althea Gibson was born on August 25, 1927, in Silver, South Carolina. At a young age, Gibson and her family moved to Harlem in New York City. In New York, Gibson's family struggled with poverty, and Gibson herself struggled in school, often skipping class.
At the same time, Gibson fell in love with sports, specifically paddle tennis. She was a neighborhood paddle tennis champion, and, after noticing her skills, musician Buddy Walker invited her to play on local courts. Gibson practiced at the local recreation center, where she won many tournaments, before being introduced to the Harlem River Tennis Courts in 1941. A mere year after picking up a tennis racket for the first time, Gibson won a tournament sponsored by the American Tennis Association, an African American organization that sponsored events for Black tennis players.
Gibson won two more tournaments in 1944 and 1945, lost one in 1946, then won 10 championships in a row from 1947 to 1956. In the midst of this winning streak, Gibson would make history as the first African American player to compete in the U.S. National Championships in 1950 and Wimbledon in 1951. She also got accepted to Florida A&M University on a sports scholarship and played tennis at her school. Gibson graduated college in 1953 but struggled to find work during and after college. At one point she considered quitting tennis and joining the U.S. Army. This was due in part to the fact that it was hard to break into the world of tennis, which was white-dominated and segregated in the U.S.
Things started changing in 1950 when Alice Marble, a former No. 1 tennis player, published an article in American Lawn Tennis magazine that put the tennis world on blast for denying someone like Gibson a chance to compete in the world's biggest tennis tournaments. Marble's article brought attention to Gibson's plight and, by 1952, Gibson was a Top 10 player in the United States. By 1953, she would be ranked No. 7 in the country.
In 1955, Gibson went on an international tour sponsored by the United States Lawn Tennis Association. She traveled to countries such as India, Pakistan, and Burma to play tennis.
Gibson dominated the tennis world in the latter half of the 1950s. She won the French Open in 1956, won the women's singles and doubles tournaments at Wimbledon in 1957, won a title at the U.S. Open in 1957, and won titles at Wimbledon and the U.S. Open again in 1958. The Associated Press voted Gibson Female Athlete of the Year in 1957, becoming the first African American to receive the honor. She would also earn this title in 1958. Gibson officially turned pro in 1959. By 1959, she had already won 56 singles and doubles titles.
During the 1960s Gibson still won titles but also made money doing it. In 1960, she was reportedly paid $100,000 to play a series of matches before the Harlem Globetrotters games. During this time, Gibson also started playing golf, becoming the first African American member of the Ladies Professional Golf Association and the first Black woman to compete on the pro tour.
Gibson's tennis career continued throughout the 1960s until she retired in 1971. The same year she retired Gibson was inducted into the International Tennis Hall of Fame. Despite being retired, Gibson continued to involve herself in the world of sports. Starting in 1975, Gibson served as the commissioner of athletics for New Jersey State for 10 years. She was also a member of the governor's council on physical fitness.
Gibson's later years would see her face poverty again as she almost went bankrupt before former tennis player Billie Jean King along with others helped her out. In her old age, Gibson also developed many health issues.
Althea Gibson died of respiratory failure at the age of 76 in East Orange, New Jersey. She will always be known in the tennis world for her dominating serves and powerful play but also for her bravery and determination to make it in the world of sports. Her courage is an inspiration to athletes and non-athletes alike.