Opinion: Griner Prisoner Swap Was a Good Decision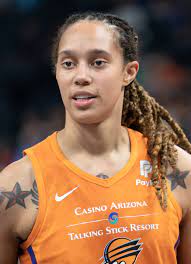 On February 17, 2022, WNBA player Brittney Griner was arrested after arriving in Moscow for a tournament. The reason for the arrest was for having vape cartridges with hashish oil in them. Brittney Griner had used marijuana in the past for medical reasons, but medical marijuana is not allowed in Russia. In May America declared that she was "wrongfully detained" and started trying to get her back. Meanwhile in Russia, Griner was found guilty on drug charges in August and sentenced to nine years in prison. After months of negotiating, Russian and American officials agreed to a prison swap of Brittney Griner and Viktor Bout. Viktor Bout, nicknamed "the merchant of death" is a Russian arms dealer who was being held in U.S. prisons for conspiring to kill U.S. citizens and aiding a terrorist organization. People have criticized the decision, saying that Viktor Bout is too dangerous to just trade him for one person. It's also been said that Paul Whelan, an American Marine who is also imprisoned in Russia, should have been a part of the prison swap too.
I, personally, think that the U.S. made a good decision in trading Brittney Griner for Viktor Bout. This trade should not be treated as a business transaction. Brittney Griner's life could have been ruined if the U.S. couldn't get her back. She's got a wife and family who want her back home and the U.S. had to do everything they could to get her back. People bring up the case of the ex-Marine Paul Whelan who has been imprisoned in Russia since 2019. Before criticizing that America should've gotten Paul Whelan back, know that they actually did try to get him back. During the months of negotiations, the U.S. tried to get Russia to swap Paul Whelan too, but Russia steadfastly refused. No matter how much diplomats tried, Russia refused to give up Paul Whelan and after months of nothing, the U.S. had to agree to a deal with just Brittney Griner. It was also crucial for America to get Griner back because of growing tensions between the U.S. and Russia. If Russia already has one American, Paul Whelan, that the U.S. still can't get, and then they also fail to get Griner back, then that just looks bad for the U.S. It makes it seem like Russia can just detain anyone and the U.S. can't do anything about it. It looks bad.
People might say that the deal was terrible because Viktor Bout is an arms dealer and he can harm many people, while Griner is one person. It's better to give up one life to save multiple lives. That one life is still important though and to willingly ruin someone's life, just to potentially save more lives isn't right. You can't ruin Griner's life to stop other people from potentially being harmed. Also, Griner doesn't have a say in the deal and to just sacrifice her life like that just to stop any potential harm from happening, without her say, is terrible. Brittney Griner, her family, and many other people have been begging for her to return to the U.S. and diplomats have to respect that and get her home. Yes, a dangerous person was released from prison because of that deal, but you can't put a price on a human life.