Native American Heritage Month: Susan La Flesche Picotte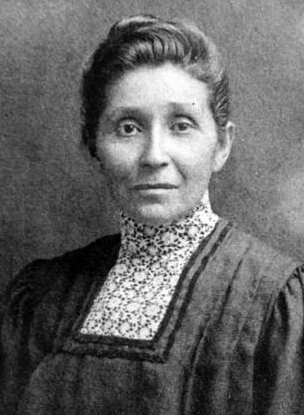 November is National Native American Heritage Month, an opportunity to celebrate and honor the history of the Native American tribes of the U.S. Today we take a look back at Susan La Flesche Picotte who was a doctor and activist who made history.
Susan La Flesche was born on June 17, 1865 on the Omaha Reservation in Nebraska. Her parents were Mary and Joseph La Flesche, the latter who was the last recognized chief of the Omaha tribe. La Flesche's father was also an activist who encouraged his fellow Native Americans to seek education and tried to adapt his tribe to the current age. He fought for the preservation of the Omaha and instilled that same spirit in his daughter.
One of La Flesche's first glimpses at the hardship of her people came when she was eight years old. Later in life, she told the story of how she stayed at the side of an elderly woman, in terrible pain, who was waiting for the doctor. Four messages were sent to the doctor and he said that he would arrive shortly. But, the doctor, a white man, never came, and the old woman died. Witnessing this mistreatment would stick with La Flesche for many years, inspiring her to pursue medicine. Speaking of the incident many years later, La Flesche recalled, "It was only an Indian…and it [did] not matter."
She was educated on the Omaha Reservation until she was 14 when she went to the Elizabeth Institute for Young Ladies in New Jersey, with the support of her father. La Flesche returned to the reservation when she was 17 and found a job teaching at the Quaker Mission School. While teaching at the school, she met Alice Fletcher who was a Harvard anthropologist and women's rights advocate who urged La Flesche to go back to school for a medical degree.
Following Fletcher's advice, La Flesche attended Hampton University in Virginia, where she graduated second in her class. With a college degree in hand, La Flesche enrolled in the Women's Medical College of Pennsylvania in 1886. Alice Fletcher would help her further by securing her scholarship funds from the U.S. Office of Indian Affairs, one of the first cases of a student receiving college loans from the government.
La Flesche graduated from WMCP in 1889, a year early and at the top of her class. After graduating from WMCP, she became the first Native American doctor in the U.S. She succeeded in overcoming the sexist and racist ideas of the medical community, and of general society, and that alone cemented her place in U.S. history.
She found a job at the Omaha Agency on the Omaha Reservation and went to work as one of the only doctors on the reservation. La Flesche was a caring doctor and soon her patients, mostly suffering from tuberculosis or cholera, preferred her over the reservation's other doctor, a white man. The other doctor quit soon after La Flesche arrived, leaving her the only doctor to thousands of people. La Flesche was both a doctor and advocate, as she worked to not only care for her patients but preserve Native American culture and regularly wrote to the Commissioner of Indian Affairs about issues faced by Native Americans.
She continued to face many issues on the reservation. La Flesche would often make house calls, hiking miles through snow and rain, to her patients but they also usually rejected her treatment or diagnosis as they didn't trust her knowledge of medicine. La Flesche launched many health campaigns on the reservation and taught people on the reservation the dangers of alcoholism and of prominent diseases such as cholera and tuberculosis. La Flesche would also petition and succeed in persuading the Office of Indian Affairs to ban liquor sales in towns within reservation boundaries.
In 1894, she married Henry Picotte, becoming Susan La Flesche Picotte. She would have two sons with her husband, Carl and Pierre. After marrying, Picotte moved to Bancroft, Nebraska where she opened a private practice that cared for both Native and European Americans. Picotte worked at her practice in Bancroft until 1905 when her husband died. She and her sons moved to Walthill, Nebraska where she opened a hospital on a Nebraska reservation. It was the first hospital on a reservation not funded by the government and Picotte would continue to help both Native and European Americans, ensuring equal medical treatment to all.
Susan La Flesche Picotte died on September 18, 1915, survived by her sons and her hospital, which stayed open for many years. She was a trailblazing Native American woman who fought for her people while also busting gender and racial stereotypes. The hospital in Nebraska is now a museum for the Omaha and Winnebago people, dedicated to Picotte.