Granada's Favorite Fall Starbucks Drinks
Along with cold weather and falling leaves, Autumn brings the best of food and drink. Many cafes adopt pumpkin spice lattes into their menus and crank up the cinnamon levels. I asked forty students what their favorite fall drink from Starbucks was and here are the results: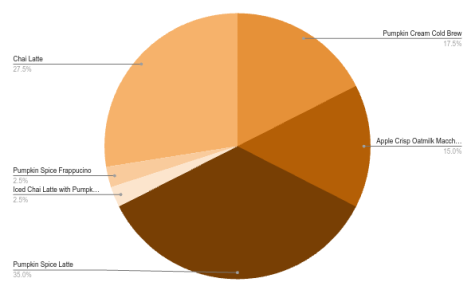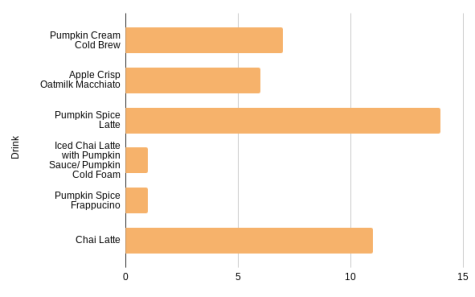 The two most popular drinks were the Pumpkin Spice Latte and the Chai Latte these are the reasons why:
Pumpkin Spice Latte
"The coffee works perfectly with the latte's pumpkin, nutmeg, cinnamon, and clove flavors" (Amaya Orsi, Grade 11).

"It reminds me of my days in middle school and gives me all the fall feelings, even if it's hot outside" (Elizabeth Kang, Grade 12).

"I really like the latte because it's my favorite thing to drink while taking walks on a cold rainy fall days" (Prisha Sheth, Grade 11).

"It's sweet without being too sweet, pumpkin spiced without being too pumpkiny or too spicy" (Natalie Priss, Grade 9).
Chai Latte
"I've never been a big fan of pumpkin flavors, but the chai latte has all the fall spices, and tastes even better than the PSL" (Jess Farley, Grade 10).

"Although you can get it all year round, it's a lot more special, in the fall it's very warm and cozy" (Anja Weiss, Grade 11).

"It's made perfectly for a hot day or cold day. It tastes amazing iced or warm and if you want to spice it up a bit you can add a couple shots of vanilla" (Stephanie Suarez, Grade 12).

It's my go to drink at Starbucks even when it's not fall. It gives me my caffeine fix in a frothy, warm, spicy drink" (Jake Gerardi, Grade 11).
These flavors have become staples in people's fall bucket lists, many countdown the days until the drinks can be found on the menu. Pumpkin spice can be found in Starbucks from now until winter, when the seasonal drinks get replaced with Christmas flavors.