On Tuesday, September 12, at 8:00 PM Granada's Gold team crushed our rivals at Livermore High. The final score was an impressive 42-6 Matadors. Girls flag football has a few different rules compared to high school football the most important being that it only contains two 20-minute quarters. 
In the first quarter number 7, Kayla Clarin, a halfback for the Gold team, starts off the game strong with a touchdown on the very first play. Clarin receives a beautiful pass from quarterback Isabella Moen and sprints down 30 yards dodging Livermore players left and right to score a touchdown.
Clarin said, "I thought I was gonna fall and almost tripped over my two feet but as a team I think we've been improving during practices and they've really helped us combine as a team."
The score was now 6-0 Matadors. 
Story continues below advertisement
On the second down Moen makes an excellent pass 30 yards down to Madeleine Contreras who successfully completes the pass but is unable to make it into the end zone. Later in the quarter, Granada displays their strong nearly impenetrable defense. On Livermore's third and fourth down Emma Dunn and Teagan Bailiff manage to snatch Livermore's flags off just seconds after they had completed a pass.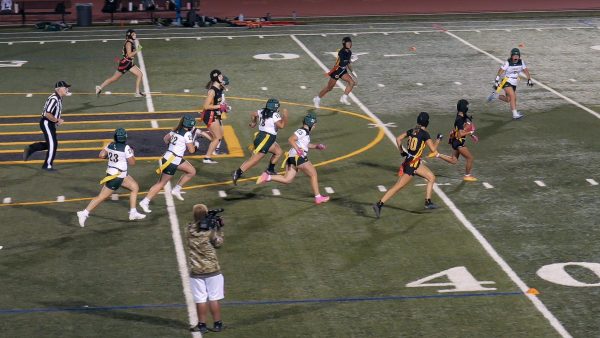 Granada's talented quarterback Isabella Moen threw countless complete passes ranging about 40 yards each with ease and precision throughout the game.
Moen said, "Just knowing where all the other players are and whatever routes are open helps me in the plays."
After a touchdown from Tatum Brown Granada was up 15-0 with 11 minutes to go in the first quarter.
On Livermore's first down Kaitlyn Brongiel makes a shocking interception and successfully dashes the 45 yard sprint into the end zone, the crowd going wild with disbelief the score is now 21-0 Matadors. Not only does Moen have a strong arm but she shows great speed on the second down as she takes the ball herself and sprints 25 yards scoring yet another touchdown for the Matadors. With only 13 seconds left in the quarter Brongiel makes it to the end zone after completing a pass from Moen on the 25 yard line.
The final score of the first quarter was 29-0 Matadors.
The second quarter started rough for Granada as Livermore managed to make a complete pass leading to a touchdown. However, Livermore's cheering didn't last for long as Granada made another stunning touchdown carried out by Saskia Raab who ran a full 40 yards to the end zone after a complete pass from Moen. Raab showed incredible speed and stamina allowing her to make it past Livermore's defense just in time.
"I felt pretty fast! I liked running down the field and it was very nice to get the chance to do that," said Raab. Her touchdown knocked the score up to 35-6 Matadors.
Catlyn Homes exhibits great speed by making a quick interception of Livermore's ball but is unable to get through their offense in time. Sophia Bertolo, a wide receiver for Granada scores the last touchdown of the night. She secures a firm pass from Moen and continues down 30 yards bringing the final score to 42-6 she later elaborates about her mindset throughout this impressive play.
"At first I really wanted to get past my defender, I knew that I could beat her and when I got past her I looked back right as Bella was throwing the ball and honestly my only thought was 'I really hope I catch this ball' because I was wide open and the ball was perfect. Then when I caught it it was just keep running until you hear the whistle," said Holmes.
Bertolo said, "I think we were just prepared, we knew where we needed to be and we knew what routes we needed to run. We ran in with confidence and honestly that's just the name of the game being confident and knowing where you're going."
Raab claims, "We got lucky with a lot of really athletic girls, and on top of that because we've done conditioning and run throughs everyone's been able to get on the same level."
As the game came to an end Granada's Gold team players seemed to be looking forward to the rest of the season. The morale was high and overall most of the players were ecstatic about how they had performed during the game. Their training and hard work has truly begun to pay off and it appears that the Gold team will be racking up wins for Granada High School after today for many games to come.