Rotary Club of Livermore's Chili Cook-Off Returns for a Second Year
On Saturday, October 1, the most talented chili cooks in Livermore faced off in the Rotary Club of Livermore Valley's Second Annual Chili Cook Off. The event was organized by none other than former Granda principal Philomena Rambo. The event not only included the chili tastings and competition, but featured three live bands, displays from local merchants, breweries, artisans, and wineries, and, finally, balloon animals and magic acts for the children of Livermore. The cookoff began at 11am and lasted throughout the day, with winners announced shortly before 5pm. Coming in first was the Del Valle High School Culinary Academy, in second was the Livermore Butcher Shop, and in third place was The Club at Ruby Hill. 
Aside from the previously mentioned winners, the following local businesses, organizations and families competed in the chili cook-off: Burnt Endz, Joe's Doubly Barrel Barbecue, the Livermore Pleasanton Fire Department, Marty's Joint Food Truck Chili, North Wood Chili Bean Machine, Oyo Pleasanton, The Club at Ruby Hill, and the United States Coast Guard. 
Del Valle High's culinary program's chili was exceptional. The program's students were able to perfectly capture the taste and feel of a home cooked meal, and included tons of topping options to choose from, from onions and chives to cheese and sour cream. With all of these positives, it is not surprising the high school won first place.
Carmen Ortiz, one of the chefs, credits all the program's success to their teachers. "Ms. Russel, our teacher of course, Mr. Taylor, our principal, were the ones who made this whole process and this win into a reality," said Ortiz.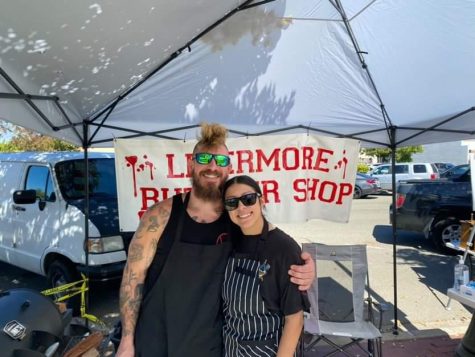 The Livermore Butcher Shop's chili, somewhat expectedly, had far and away the best meat of the competition. The smoky and delicious flavor from the pork made their chili a fan favorite among event-goers.
Paris Cusimano, daughter of the owner of the shop, says her father, "has a passion for cutting meat and being in the business and has been a butcher for 30-plus years. All the meats that we have are high quality, angus certified, and prime grade." All this experience and excellence definitely showed in their chili, as reflected by their second place win. 
The Club at Ruby Hill's success in the competition is undoubtedly attributed to the experience and credentials of head chef Joseph, who graduated from the French Culinary Institute in New York. The Ruby Hill chili tasted like a winner, made with incredibly tender and juicy short rib and just the right amount of spice.
Chef Joseph was kind enough to provide some insight into his recipe, "The chili is composed of two meats, ground angus beef and short rib. We cook them separately, and, of course, when you build flavor, you glaze and caramelize everything first."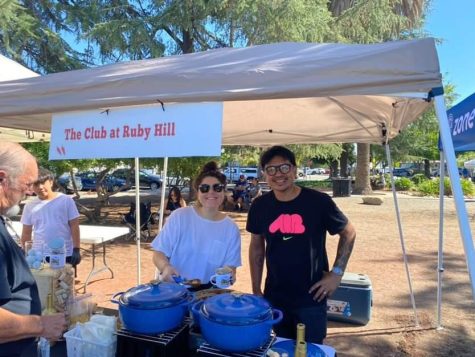 Three bands: Frankie Bones Project, the Groove Objective, and Lunafish, performed one after another, keeping the energy and spirits high throughout the day. While all three bands played primarily rock music, they were each decidedly different.  
The Frankie Bones Project band is a group of extraordinary men, not only talented musically, but academically. Jeff LaRoca, the band's bassist, is a PhD atmospheric scientist and professor at San Jose State University who simply does music as a hobby. Lead guitarist Mark Waterford is a retired secret service agent from Chicago, who served under former President George H.W. Bush and former President Bill Clinton. "Myself and Frankie Bones and Jeff LaRoca all met at a jam night here about 12 years ago," said Waterford. Since then, Bill Ziegler and Scott Daylick have been added into the mix. All five members have been playing together, whether it be in the Tri Valley or as far as Monterey, for about three years and proudly call themselves the Frankie Bones Project. The Frankie Bones Project performed covers of oldies from the Rolling Stones and Creedence Clearwater Revival for the two hour duration of their set, making them the perfect band for rock-music lovers. 
The second band to play this past Saturday, the Groove Objective, had never played in Livermore prior to this weekend, but fell in love with the atmosphere. Lead singer Raya Zion says she founded the band, along with their guitarist Dave and pianist Michael, roughly ten years ago.
Zion says she has been singing all her life, "I wanted to be a singer ever since I was born. I started singing maybe when I was one." As far as their music, the Groove Objective brought a bluesy, soulful sound to Carnegie park, performing mainly covers, with a  few originals sprinkled in now and again. The Groove Objective took time to allow each member to solo, their sheer musical talent blowing away anyone and everyone lucky enough to be within earshot.
The third and final band present at the chili cookoff was a band local to Livermore, Lunafish. The band was started in 2007 by music coordinator Jeff Fish, whose wife, Chris Gattuso-Fish currently sings lead vocals. In addition to the Fishes, Lunafish consists of bassist Mike Fine, drummer Bill Ziegler, Mark Frittato, and Don Bott on keyboard. For the past 15 years the band has been together, they have made something of a name for themselves in Livermore, frequently playing in all the popular venues, but neglecting to choose a favorite.
Gattuso-Fish claims that the band just, "really loves playing in Livermore, mainly because there's a great community of music lovers and music supporters, and everyone just appreciates the music." It appears that Lunafish's love to play in Livermore is matched by their fans' love of hearing them play. And who can blame them? With Janis Joplin, Led Zeppelin, Rolling Stones and the Doors dominating the band's setlist, it would be hard to find a music lover not obsessed with Lunafish.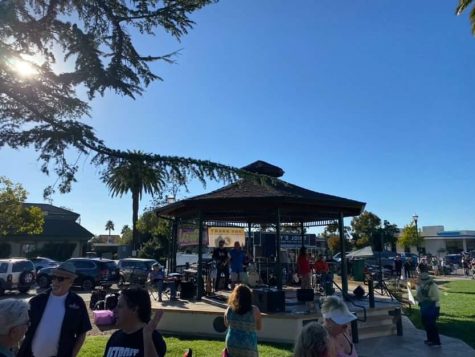 After months of vigorous planning, Mrs. Rambo was able to put together an amazing experience for all attendees of the Rotary Club's chili cook off. Her motivation for planning this event, however, is more than just a love for chili. The cookoff serves as a fundraiser, with all proceeds going back to the community. The Rotary club uses the money raised to provide grants for schools in the Livermore Valley Joint Unified School District, of which Granada is a part of, as well as supporting other charity organizations, like Open Heart Kitchen and Shepards Gate.
As Mrs. Rambo puts it, the chili cookoff is a great opportunity for Livermore residents and the Rotary Club itself to, "come together to raise money to support the community." Luckily for Livermore, the chili-making fun, as well as the donations it provides the community, is to continue for years to come.