National School Counseling Week: Getting to Know Our GHS Counselors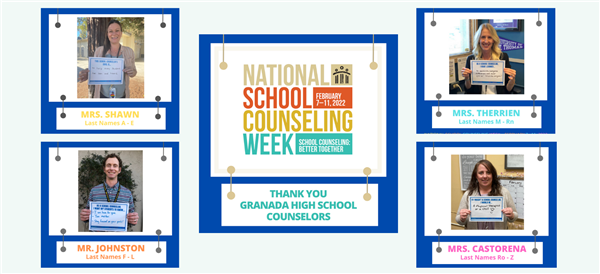 Granada high school is filled to the brim with students, all of which are loved and supported by our counseling team. Every scheduling problem, or emotional problem, is brought to our counselors. The support they provide to students is unmatchable and completely unbelievable. To celebrate National School Counseling Week, here are a few spotlights on our wonderful counselors.
Tyler Johnston:
Tyler Johnston covers students with last names from F-L and has been at Granada for 11 years. Johnston loves getting to know his students and making positive influences on their lives. Being a part of the Granada community, he loves the "camaraderie among staff and the welcoming atmosphere we foster as a school to our students and the community."
Outside of Granada, Mr. Johnston finds joy in surfing, soccer, learning about wine, and helping coach his kids' sports. As a kid, he spent roughly three years in France. Johnston feels that his experience being an outsider and having to learn a new language "has helped [him] empathize with students in similar situations in high school."
Joni Therrien:
Joni Therrien works with students whose last names range from M-Rn and while she has only been at Granada for four years, she has had her counseling license for 20 years. Therrien loves "connecting with students and hearing their stories." Being a part of the Granada community, she enjoys the sense of community and overall support provided.
Outside of Granada, Mrs. Therrien has taken to training a therapy dog. Her family and herself have been training their mini-labradoodle so they are able to "use her in the community to help others." Going back to her childhood, Therrien has always had a heart of pure gold. While she did not expect to be a counselor, as a kid she envisioned helping others through nursing.
Amy Castorena:
Amy Castorena supports students with last names from Ro-Z and has been a counselor for 7 years. As a counselor, Castorena loves connecting with students through "social and emotional support, academic advice and behavior interventions." As a part of the Granada community, Castorena relishes the feeling of having a team to support her. As for her students, Castorena states she "love[s] watching students achieve their personal and academic goals."
Off of the Granada campus, Mrs. Castorena enjoys riding her bike, hiking, walking her mini Yorkie, Jeeter, and helping coach her kids' competitive soccer, baseball, and softball teams. Recalling older hobbies and passions, Castorena revealed that she "played professional softball for the Virginia Roadsters back in the day."
Sylvie Shawn:
Sylvie Shawn connects with students who have last names A-E and has been at Granada for 7 years (with 3 years experience prior). While Shawn does plenty of academic and college planning, she also does plenty of social and emotional counseling with students. Shawn states, "Getting to know the different aspects of [her] students and what they are experiencing makes the conversations fuller and more meaningful." During her time here, Shawn has seen teachers and staff members go the extra mile to ensure students feel supported, and says that it "makes working here a pleasure."
Beyond the gates of Granada's campus, Mrs. Shawn enjoys rock climbing, hiking, being outside, baking, and simply walking her dog. During her time in high school, Shawn was involved in her school's musical theater, choir, and dance. Her fondest memory recaps the dance show she performed during her senior year. Recalling the experience, Shawn explained, "I had many friends involved and it was a wonderful creative outlet for me."