Athlete of the Week: Kevin Gad
As one of Granada's most notable varsity basketball stars, Kevin Gad has been awarded mens Athlete of the Week by West Coast Preps while further recognized by the Pomegranate. In his final season of varsity basketball for Granada, Kevin is humbled and proud of this honorary recognition.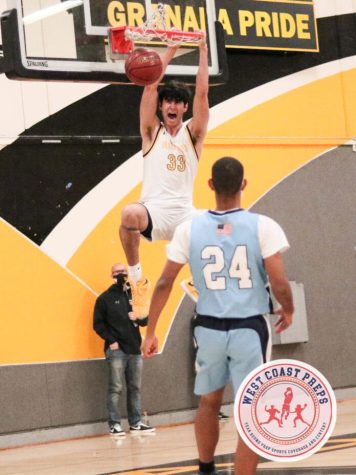 Kevin, sometimes referred to as "KG Hoops", is nothing but enthusiastic about the remainder of the season. He describes how this year's varsity team is very committed to working hard on and off the court to stay successful. "We all want to be great at what we do," Kevin stated. Though it may sound cliche, he believes that hard work and determination has the power to take him places. Kevin's motivation doesn't stop with his teammates, current head coach Q Johnson has been training Kevin for 7-plus years. When asked about their relationship, Kevin replied with "Since 5th grade Coach Q has pushed me to excel everyday and reach my full potential." Gad believes this year's varsity team is capable of winning the league championship and beyond.
Playing the sport for what seems like forever, Gad began his basketball career with the mini hoop in his living room at age 3. Now he plans to pursue basketball at the collegiate level. Having been accepted to a number of schools, Kevin plans on waiting until his last high school season is finished until officially committing. We are excited to see where Kevin's lifelong passion will lead him! Congratulations!