On October 28 Granada's marching band and color guard participated in the Foothill band review, their second band review of the year, located at Amador High School down Pleasanton Main Street. Granada's marching band competed in division 3A. These divisions help separate bands of varying sizes. The Foothill band review contained parade marching, drum major, and color guard.
There are six judges total, and two of them score every band in one of the three categories, music, showmanship, and marching. These scores are cumulative and result in an overall score which will end up placing each band in a designated spot. Each category has its own scoring points and music out of 500 points, showmanship out of 300 points, and finally marching out of 200 points. The cumulative points are then divided by 10 to reach its final score.
Parade marching is a style of marching band where the students play a diverse set of instruments while marching down a street in a uniform fashion. Granada's marching band came in 3rd place against 5 other bands in division 3A with a cumulative score of 77.8. Granada also came 1st in marching as an individual category.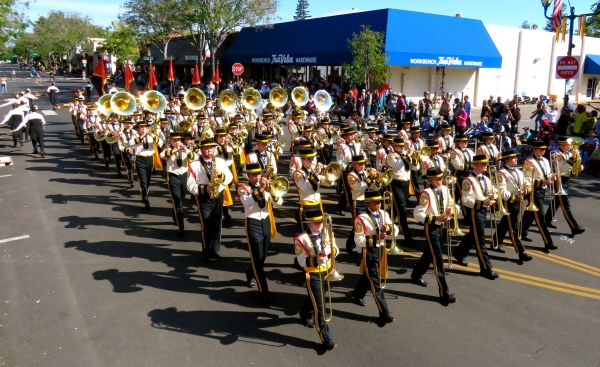 Drum major is the title given to the leader of the marching band and they can be seen twirling a baton at the beginning of every parade march or acting as a conductor for the band. There are two different divisions for drum majors within band reviews in order to separate the two different types of batons. These divisions are: Military baton standing at 38 inches long and Mace which stands at a great 58 inches tall.
Story continues below advertisement
At the Foothill band review, Granada's performing Drum Major Parker Wolfe competed and placed 1st in the Military baton division. Military baton judges four categories, each scoring out of 250 points. The categories are: Marching and maneuvering, Flourishing and composition – the performance given by drum major before a parade march -, flourishing achievement – how well the drum major flourished -, and general affect – how well the drum major's performance worked with the band -. Parker cumulatively scored an impressive 71.2.
Drum major Parker Wolfe is a senior at Granada High. He expands on his performance at the review stating, "I did very well, I scored first place, but I still think I have a lot of room for improvement." Each performance within the review receives a playing tape. This tape is a video of the performance where the judges audibly critique and comment on what can be improved and what mistakes were made. Later on, players can watch back the tape and better their skills. Wolfe continues to say "We did pretty good as opposed to our last band review. There was a lot of improvement playing-wise and marching-wise."
Not many people realize the stamina and endurance it takes to go through an entire band review. The competition begins bright and early around 7 AM and comes to an end around 2 PM. The day is full of lugging around heavy instruments and even heavier cases all while wearing large and thick marching band costumes. Wolfe states, "The best part of a band review is going home. I say this because it's a very long and tiring day, and you have to be focused at all times. I celebrate my wins by sitting in silence and smiling."
Keeping an entire band organized and show-ready in a short amount of time cannot be an easy task. The nerves and the anticipation are difficult to manage with the bustle and rush of the review, not to mention that other schools are running about as well.
Next to the marching band is the color guard. Color guard typically spins flags but at other times rifles and sabers; they are used to boost school spirit and can be seen doing interpretive movements alongside their spinning. Color guard is non-musical and performs in the parade march. This form of art goes well with marching band as it is used for visual effects. Junior Sofia Borque is the co-captain of the color guard team here at Granada, she spins the saber. Sofia states, "I personally think I did really well I caught my tosses really strong and that's what I was aiming for."
Marching band is all about uniformity, the band must work as one unit in order to be successful. Much like marching band, the color guard must unify as well; not only do they perform alongside the band but a key component of color guard is synchronization. Sofia states, "We team bond by hyping each other up and pep talking during warm-ups."
The Foothill band review was a big step for Granada's Marching band and music department. All the captains agree that there was significant improvement seen at this review and they all hope to only get better as the band continues to compete.