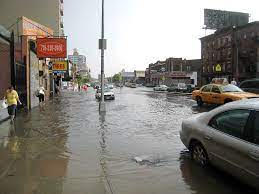 On Friday, September 29, one of New York City's wettest days in decades left the nation's largest city stunned and swamped as Tropical Storm Ophelia's remnants pushed onshore. This severe rainstorm dumped approximately 7 inches of rain in a short time period of just 24 hours across all five boroughs of the city, knocking out several subway and commuter rail lines, stranding drivers on highways, flooding basements and even triggering a state of emergency shutting a terminal at LaGuardia Airport for hours. Hence New York's infamous name, concrete jungle, the city had hardly any sources of natural drainage, causing the flood to evolve more vigorously. Initially, debris accumulated into jams overtime during the storm. 
School leaders and parents were put into panic mode as students showed up with soaked clothes, head to toe. Adults had to help children out of their water-filled classrooms. Some supplied the students with dry clothes. Schools had to figure out alternate exits, while concerned parents were figuring out how to reach their children. The situation was absolute chaos. While Eric Adams, a school board leader, put schools on shelter-in-place, principals were not informed about this change and instead, they believed that parents were to come and pick their children up. These mixed messages caused a rise in confusion throughout the school districts. Elizabeth Fortune, a teacher at the Lafayette Educational Complex in Brooklyn, explained how she gave out all of their logo pajamas to the students with soaked clothes. 336 schools required a clean-up project over the weekend due to this flood. Additionally, Brooklyn Tech, one of the nation's largest high schools, totaling around 6,000 students, had misleading communication. No school buses arrived and many were stranded. Students who lived further away from the school did not have a form of transportation to reach home. 
This flood led New York into a frozen state due to heavy flooding. A whopping 150 schools were drenched, some from sewage. 8 inches (20 cm) of rain fell over the JFK International Airport causing a few delays. Central Park gained about 5 inches of rain and freeways were flooded with water. In order to announce to the public to spread awareness, governors spread out states of emergencies to their representative states. Representative of New York Governor Kathy Hochul declared an urged State of Emergency on Friday Morning. She stated "I'm issuing a State of Emergency for New York City and the surrounding counties effective immediately, to help address the ongoing storm and flood response in impacted areas," Governor Hochul also said, "Our team is in close contact with our city and county partners and are prepared to provide any necessary support to keep New Yorkers safe." She also encouraged people to take steps to stay safe and "never attempt to travel on flooded roads." Many of the citizens in New York were infuriated due to the damage done to their property. According to the Department of Homeland Security, floods account for more economic damage, property damage, and loss of life than any other natural disaster. Cars were paralyzed in the water, some cars with water reaching up to their windows, multiple water rescues occurred as drivers became stranded in stalled vehicles now surrounded by murky floodwaters. There were 15 rescues from cars and three rescues from basement apartments. This flash flood badly damaged the city's subways and streets. According to the National Weather Service, this has been the dampest September for New Year in 140 years. Streets began to turn into flowing rivers. Fortunately, no injuries were caused during the storm and no one went missing but rescue searches throughout the city were made.
New York's Woodhull Hospital was shut down due to the flooding. They warn citizens that it is possible that it might take "several days" to reopen. They temporarily sent over 100 patients to another alternative hospital. The hospital shut the power off and closed down the building. Electric repairs were made to the hospital during this time. 
Story continues below advertisement
Another side effect of this flood is that some places were destroyed and it has an extravagant cost. One resident in New York according to BBC, Kelly Hayes, told BBC that she estimated that the flood damage to her bar and kitchen in the Gowanus neighborhood would cost between $25,000 and $30,000. Residents are frustrated and unsure of the next steps they should take to fix this mess. 
Furthermore, a big problem the flood caused was for one female sea lion to escape from her enclosure in New York's Central Park Zoo when heavy rain caused her pool to flood. The sea lion managed to swim out of the flooded pool and roam throughout the surrounding area before returning to her enclosure. Jim Breheny, Director of the Bronx Zoo and Executive Vice President of the WSZ's Zoos and Aquarium, said "Zoo staff monitored the sea lion as she explored the area before returning to the familiar surroundings of the pool" according to (CNN). 
Ultimately, this flash flood was extremely unexpected, New Yorkers are currently working on quickly recovering from this catastrophe. As a result, this is bringing New York citizens closer together by the teamwork and efforts put in, to bring the city back to life. The city has started brainstorming new ideas to protect the people from future surprise disasters. Climate change has been fueling these future disasters all over the world and this pattern is going to continue. This chaos has built up confusion all over the city but we are pushing through this roadblock and learning to be better prepared for everything the future has in store for us.