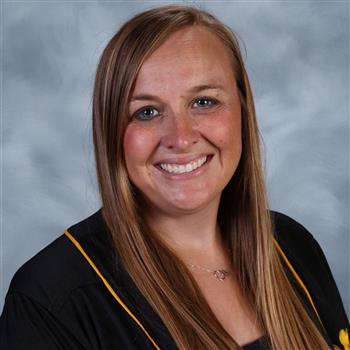 English 9H, 10H, and Leadership teacher, Tiffany Gatehouse has been teaching at Granada for 12 years and is an extraordinary teacher who effectively helps students learn new things every day. Due to Mrs. Gatehouse's teaching method of spending time on a specific topic before moving to the next, students are able to efficiently complete work without having to complete much at home.
With Mrs. Gatehouse's easygoing attitude, students are able to feel comfortable asking questions and just reaching out for help in general because they know they can. Caitlin McNeill (12) has been in Mrs. Gatehouse's class for 3 years now saying, "I'd say that she actually like connect with her students and she wants to be like their teacher and their friend you know so she actually cares about us and talks to us and asks us about our day and stuff."
When teachers are properly able to communicate with their students, students feel like they matter and that they are respected within their classroom which helps form better bonds with their teachers. Other students say Mrs. Gatehouse is a great teacher because of the positive attitude she brings into the classroom. Student Cole McGinnis (9) explains that Gatehouse makes her classroom a welcoming space with "…her general attitude about the classroom and the way she talks with us, the way she helps us, the way that her assignments are structured." From communication to participation, Mrs. Gatehouse is an excellent teacher because of her positivity and kindness to all her students in and out of the classroom.
Mrs. Gatehouse liked school from the start and knew she wanted to do something that involved being there. "I have always loved school and was very good at it. I always thought if I could be a professional student, I would find a way, so the next best thing was being around students and teaching them myself. I love education and working with the next generation," Mrs. Gatehouse says.
Story continues below advertisement
Some things never change but here's what has while Mrs. Gatehouse has been teaching at Granada. "Homecoming has changed somewhat, but it is still my favorite week of the year. I am very involved in homecoming being the leadership teacher, so I am exhausted after that week, but I love everything about it. The skits have shifted from inside to outside and small details have changed, but the overall feelings of the week are still there which is what matters. I loved homecoming week in high school, and I hope so many students love it here at Granada."
With only thirteen weeks in a trimester, it can be hard to make connections with students, especially after COVID-19, making it hard for some people to connect with others around them. Mrs. Gatehouse says, "I really try to get to know my students and connect with them inside the classroom. I try to remember small things and check in with them occasionally on those things that make them unique."
Grace Heaney (11) is in Mrs. Gatehouse's leadership class currently and describes how Mrs. Gatehouse has impacted her learning experience, "Her teaching ethic, the way she makes slideshows and explains everything to a T." Teachers who explain and verbally teach their students are the ones who will produce the higher achieving and more successful students. Grace explains how by, "…her slideshows you can tell she [is] an English teacher because they're so perfectly planned out, and in English, she tries to help keep her English students ahead of their things, which is kind of something anyone should do, but she strives to use those together." By organizing her work, students are able to get a visual of what they have planned for the rest of the day helping them retain information better and just overall improve their learning experience at school.
Everyone has their good and bad days but Mrs. Gatehouse says, "A great day of teaching is when I really feel like my students learn something or have a positive experience within my classroom. I can see when that lightbulb goes on and students grasp something for the first time, and that is what makes teaching the best. When I feel like my hard work is making a difference, it is also a good day."
Being a teacher can be fun but also challenging, "The hardest part about teaching is making so many decisions in the moment. I feel like every day there are new challenges thrown at me, and I have to adapt…" says Mrs. Gatehouse.
Some students described the improvements they have accomplished in Mrs. Gatehouse's class. Grace Heaney states that Mrs. Gatehouse, "… just tries to help you be a better person like in leadership and English."
Aiden Clarin agrees and adds, "Well I've been in her class for 3 years now so ever since from like a sophomore to like now that I'm a senior I feel like its nice to be able to like to be more confident on campus while at the same time like know that I'm in a good way impacting Granada history."
The freshmen at our school have not been in Mrs. Gatehouse's class too long but they still realize her impact on them. Riya Anand (9) states, "It is easier for me to write an essay and elaborate on different things because she taught me a lot about that." Cole McGinnis (9) adds, "I feel like in her class, I just learned about ways to format stuff, I never knew what MLA was and now I do. It's just helpful for organizing and formatting."  With even just a few weeks into the trimester, Mrs. Gatehouse presents a lasting impact. Students feel like they can be confident in their learning and social abilities after being in her class.
Overall Mrs.Gatehouse is loved around campus by many and has helped so many students with their knowledge of English and leadership skills. Her students will continue to excel in her class as she remains an excellent teacher and listener.