On September 16, 2023, popular singer and songwriter Ed Sheeran held one of the final concerts of his "Mathematics Tour". The show was held at Levi Stadium in Santa Clara, and broke the stadium attendance record, with nearly 80,000 people in the audience. The previous record was set by WWE's WrestleMania 31 event in 2015. This means Sheeran had a higher attendance than not only Taylor Swift's "Eras Tour" but also the Superbowl. 
San Francisco 49ers President Al Guido said "This stadium has been open for nearly 10 years and last night Ed Sheeran's Mathematics tour, with its center round stage, broke the stadium's attendance record. We'd like to thank the fans and staff who made this show amazing, and of course Ed for putting on a terrific performance." When asked what the exact number of audience members was, the 49ers said they were still adding up the total which would take time.
Sheeran sold out almost every seat at Levi Stadium, likely in part because of his cleverly set up stage. The show uses a round stage in the center of the stadium, with various guitar pick-shaped screens facing various sides of the stadium, so every audience member can see a close-up of the stage. Also above the stage is a large round screen that displays graphics, or video of the stage throughout the show. Sheeran uses this setup to provide each seat in the house with an optimal view of the show.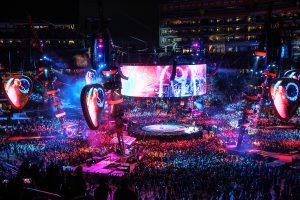 Story continues below advertisement