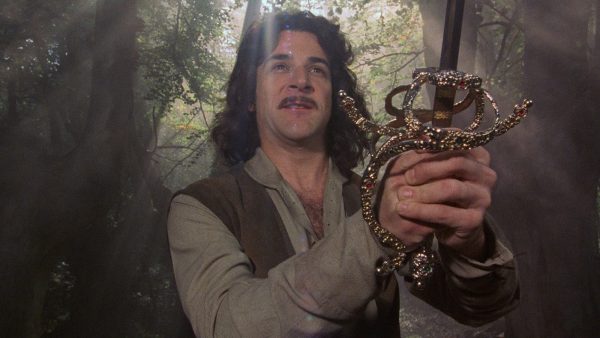 Rob Reiner's 1987 classic The Princess Bride is no stranger to physical editions, but The Criterion Collection's newest release stands above the rest. Re-released Sep 5, 2023, this new release presents the film in its original 1.85:1 aspect ratio, mastered from the original 35mm camera negative.
To put it in so few words, The Princess Bride has never looked better. While the movie was restored digitally, the picture looks as clean as film. With beautiful cinematic film grain and bright pops of color, the scope of Buttercup's journey seems to broaden. The crisp pops of red and orange in the film especially stand out, such as the leads' quiet kiss in front of the setting sun (pictured above), or the subtle garnishing on Inigo Montoya's hilt (to the left).
Reiner's strong directorial eye shines through on any version of the film, but this newest release may see some newfound appreciation for the Cinematography and Production Design, both helmed by two incredibly skilled professionals. Director of Photography Adrian Biddle would go on to score an Oscar and BAFTA nomination for his work on Thelma & Louise, and his signature mastery over color is ever present in the sweeping shots of the fictional kingdom of Florin. His use of lens flares give the film a dreamy nature, perfectly complimenting the tongue-in-cheek frame story. The crew also contains one of the greatest production designers of all time, three-time Academy Award nominee Norman Garwood, whose name can be found in the credits of some of the greatest-looking American films ever.
This release also contains many special features, both old and new, as well as a small 34-page illustrated booklet containing a new essay from Sloane Crosley, and an excerpt from a published collection by screenwriter William Goldman. Along with the 1996 commentary track, one of the noteworthy additions is the inclusion of an audiobook reading of Goldman's original novel, edited and synced up to the film. 
Story continues below advertisement
However, the Criterion release only features an English-language subtitle track, which might be disappointing for viewers not fluent in English hoping to experience the film in the highest quality.
Above all else, The Princess Bride works because of its sharp wit, fun performances, and snappy pacing, along with timeless visual effects. You can view the official release site and order here.