Black History Month: Langston Hughes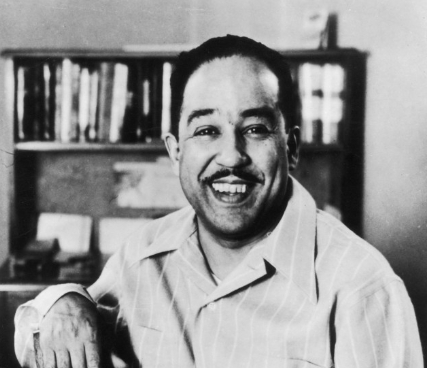 For this week of Black History Month, we look at Langston Hughes, a famous poet, and writer. Let's look at the impact he had on the Black community and the literary world.
James Mercer Langston Hughes was born on February 1, 1901, in Joplin, Missouri to James Hughes and Carrie Langston. His parents split shortly after his birth and his father moved to Mexico. Hughes' mother moved a lot so he was cared for by his grandmother up to her death in his early teens. After her death, Hughes moved in with his mother and they continued to move to many cities before settling in Cleveland, Ohio.
During his teen years, Hughes started to write poetry and delved into the works of Carl Sandburg and Walt Whitman, who would both influence his later works. Hughes wrote for his high school's literary magazine and submitted his work to many poetry magazines, although was always rejected. Hughes graduated from high school in 1920 and afterward lived in Mexico for a year with his father.
Hughes' first poem, The Negro Speaks of Rivers, was published in 1921 in the magazine The Crisis, which received high praise. Afterward, he moved back to the U.S. and enrolled at Columbia University. Now living in New York, Hughes fully immersed himself in Harlem's budding cultural movement. He would later be known as a leader of this movement, otherwise known as the Harlem Renaissance. Hughes dropped out of Columbia in 1922 and took many odd jobs around New York City. The following year, he found a job as a steward on a freighter on which he traveled to Africa and Spain. Hughes left the steward job in 1924 and moved to Paris, France where he lived for a short time while continuing to write and publish poetry.
Hughes moved back to the U.S. in November of 1924 and continued to have to take many odd jobs. In 1925, while living in Washington D.C. and working as a busboy, Hughes met American poet Vachel Lindsay. He showed Lindsay some of his poetry and Lindsay was so impressed by the young writer that he helped promote Hughes' poetry which brought it to a bigger audience.
Later in 1925, Hughes published his poem The Weary Blues in Opportunity magazine. After the success of this poem, he received a scholarship to attend Lincoln University in Pennsylvania. While studying at Lincoln, Hughes' poetry was noticed by novelist Carl Van Vechten. Vechten helped Hughes publish his first book of poetry, The Weary Blues, in 1926. The book focused on Black heritage and issues and was very popular. It also established Hughes as an impressive poet as he used jazz rhythms and dialect to depict the life of African Americans. He was one of the first writers to use jazz in this way and helped make jazz poetry popular. In 1927, Hughes published another boom of poetry, Fine Clothes to the Jew, which was about similar topics and used jazz to tell stories.
Hughes graduated from Lincoln University in 1929 and shortly afterward his first novel, Not Without Laughter. The book was a commercial success and convinced Hughes that he could be a successful writer. Throughout the 1930s, Hughes went on lecture tours around the United States as well as other countries including the Soviet Union, Japan, and Haiti. He continued to publish poetry during this time, including in 1934 with the publication of his first collection of short stories, The Ways of White Folks.
In July of 1936, Hughes published one of his most famous poems in Esquire magazine, Let America Be America Again. The poem was celebrated for exploring the lives and dreams of America's lower class and disadvantaged who still clung to the American Dream. In 1937, Hughes worked for many American newspapers as a war correspondent during the Spanish Civil War.
In 1940, Hughes started writing a column for the Chicago Defender where he created a comic character known as Simple, a working-class Black Man who Hughes used to explore racial issues and the lives of African Americans. The column was very popular and the character of Simple would appear in some of his later books and plays. In the late 1940s, Hughes composed the lyrics for the Broadway musical Street Scene. The musical was a success and earned Hughes enough money that he bought a house in Harlem. During this time, Hughes also taught creative writing at Atlanta University and held lectures at universities in Chicago. In 1949, he wrote a play that later turned into the opera Troubled Island and published a collection of poems, The Poetry of Negro.
In 1951, Hughes published another one of his most famous poems, Harlem (What happens to a dream deferred?), which talked about how the American Dream was made difficult to achieve for African Americans. Hughes wrote throughout the 1950s and 1960s and published several books featuring the character of Simple and other works of poetry.
Langston Hughes died on May 22, 1967, in New York City from complications of prostate cancer. His ashes were spread at the entrance of the Schomburg Center for Research in Black Culture in Harlem. Langston Hughes was an amazing poet and writer who focused on the issues of Black people in the U.S. and helped create jazz poetry. His skills as a writer and his work as a voice of his community are all inspiring. To close on Hughes' own words from his poem The Big Sea, "…the only way to get a thing done is to start to do it, then keep on doing it, and finally you'll finish it,…."