SZA is Back and Better Than Ever on Her New Album "SOS"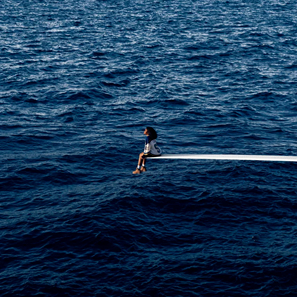 Pomegranate Seeds: 10/10
SZA finally released her long-awaited third album SOS, and with 23 tracks, she's giving us a lot of new music. It already contains such hits as "Shirt," "Good Days," and "I Hate U," so here are my thoughts on the R&B star's latest release.
The album started off strong with track one, "SOS," which had a catchy opening that pulled my attention. The entire vibe of the song was great with it truly feeling like a SZA song. "SOS" set my expectations for the rest of the album, but I would not be disappointed. The next two tracks, "Kill Bill" and "Seek & Destroy," were some of the best songs of the album. "Kill Bill" had a fun intro that set the tone of the whole song. The lyrics were fun, as well as the chorus which had a fun beat and level of energy. "Seek & Destroy" was the best track of the album and showed off how good of a singer SZA is. It had a great beat, great lyrics, and overall great production. The bridge was fun and energetic, which just got me ready for the chorus.
The next three tracks, "Low," "Love Language," and "Blind," were all songs that showed off SZA's expert lyricism as well as the great level of production that tied this entire album together. "Low" was a song I could imagine hearing in TV shows such as Euphoria. The chorus was great and the best part of the song, as well as the beat and instrumentation, were all on point. "Love Language" was a slow song that changed up the mood and was a nice touch to an overall energetic album. "Blind" was where SZA really shined as she showed off her vocals on a song that overall had a fun and romantic vibe.
SZA switched up the energy again with a collaboration with Don Toliver. "Used" started with a fun beat as well as fun lyrics that gave the record a lot of attitude and energy. Don Toliver's feature also was perfect on this song as he is a great duet partner for SZA, and he made this collaboration truly great. "Snooze," the next track, had a similar intro to "Used" but switched it up when it came to lyrics and instrumentation. It sounded as if a Lo-fi song had lyrics. Track nine, "Notice Me," gave me a little more of the energy I felt at the beginning of the album and was a fun song to listen to. SZA sounded great and her vocals mixed with a good beat, a fun chorus, and great production made "Notice Me" one of the best tracks on SOS.
The next tracks were both solid songs. "Gone Girl" had great production and allowed SZA's vocals to shine, but also felt a little basic when it came to the lyrics and chorus. "Smoking on my Ex Pack" was one of the songs that had a lot of rap influence, as the lyrics as well as the instrumentation felt like a mix of R&B and hip-hop. It had a lot of fun energy, and I just wish it was a little bit longer. Track twelve, "Ghost in the Machine," was one of my favorite songs on SOS. SZA sounded fantastic and sounded even better with her duet partner, Phoebe Bridgers. The collaboration was a good addition to this track as it gave even more depth to a song that was already awesome.
"F2F" kept the energy from the last few tracks as the intro truly surprised me, going from a mellow R&B song to a fun, energetic record. The instrumentation of "F2F" is what makes it stand out as the mix of electric guitar with classic R&B sounds made it even better. The bridge into the chorus was amazing and the ending sealed the entire track. "Nobody Gets Me" was a tad similar to "F2F" but on this song, you can truly feel SZA's emotions as she goes all out on "Nobody Gets Me." The chorus was really good and the track was a surprisingly good guitar solo.
Tracks fifteen and sixteen, "Conceited" and "Special," were some of the best songs on the album. Both had great, catchy beats as well as choruses that make you want to sing along. "Special" really was special as it felt like the most emotional song of the whole album and the entire premise of the song felt relatable. It was a beautiful song that, as always, showed off SZA's talents as an amazing singer. "Too Late" was a song I could hear being played at a lot of parties and transitioned nicely into the next track, "Far," which had a great rhythm and a fun chorus. The production of both songs was fantastic.
One of the best songs on the album was "Shirt," a song that immediately caught my attention with a fun beat and interesting instrumentation. It had a lot of the energy that I was feeling throughout the album and felt like one of the songs most heavily influenced by rap. The bridge and the chorus were superb and the entire song was excellently created. "Open Arms ft. Travis Scott" was a creative song that, once again, showed off SZA's abilities although it would have been better as a solo for SZA.
"I Hate U" and "Good Days" were both great, classic R&B songs that were full of emotion as well as great lyrics and some great moments showcasing SZA's vocals. "Forgiveless ft. Ol' Dirty Bastard" was a good ending for the album as it started off fun and continued those fun vibes throughout the entire song. The collaborator was perfect for this track and the song had great lyricism and production, as well as many rap elements.
SOS was a great R&B album marked by fun beats, interesting lyrics, and amazing vocals. The production truly tied together this album as it's how the album felt cohesive without being repetitive. SOS marks SZA's comeback and with all of its amazing songs, it earned 10/10 pomegranate seeds. I would recommend it to any R&B or SZA fans.