Holidays in the Vineyards is Back and Better Than Ever
With the holidays quickly approaching, Livermore kicked off its annual Christmas time celebrations with the "Holidays in the Vineyards" event. Organized by the Livermore Valley Wine Community, "Holidays in the Vineyards" is an opportunity for the community to shop, eat, and wine taste all across Livermore. Participating vineyards included but are not limited to 3 Steves Winery, Wente Vineyards, and Retzlaff Vineyards. 
"Holiday in the Vineyards" is a two day event, this year falling on December 3-4. The event ran from 12pm-4pm across all participating vineyards. Each vineyard offered their own selection of wines to taste, outdoor or indoor seating to enjoy beverages, catered food, and shopping from local vendors. 
Retzlaff Vineyards has been a part of the "Holidays in the Vineyards" event for years now. Retzlaff representative Emily said, "Holiday in the Vineyards is a valley-wide event. We've been doing it for years, as long as I can remember. Wine tasting, shopping, both super popular for this event. You buy wine, lunch, and hang out." Retzlaff offered outdoor seating with a great view of its extensive vineyards, and vendors set up all over the property.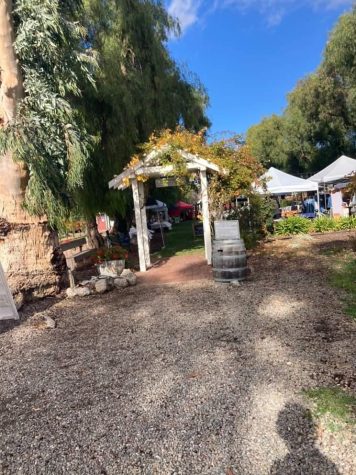 One boutique in particular called "In His Image" caught people's attention. With its extensive display of colorful jewelry, it was hard to miss "I've been in business only three months. I got started because I had my son and wanted to be a stay-at-home mom, but still wanted to do my own thing. I wanted to find something I could do while still being at home, so I just started with hobbies. All of the bracelets and rings you see I made myself," said owner Megan. She continued, "I started small with the bracelets, and built up from there. That's when I started doing pop-ups. To make a bracelet, it's actually pretty simple. I just went to Michael's and bought the string, the beads I was interested in, strung it together and tied it. I hope to branch out into necklaces soon, but it's a whole new skill set that I'll have to develop." As is evident with Megan's story, "Holidays in the Vineyards" is not only an opportunity to come together for a fun day out, but also offers opportunities for young entrepreneurs to advance their businesses. With its warm, cozy, and welcoming atmosphere, Retzlaff Vineyards was an excellent stop amongst the multitude of wineries participating in the "Holidays in the Vineyards" event.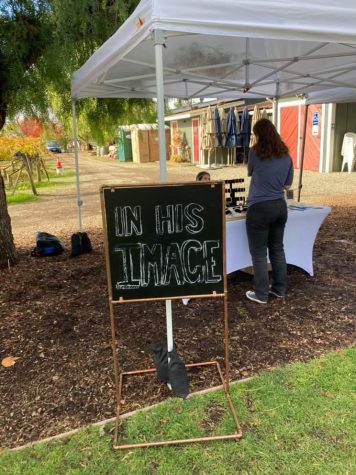 Wente Vineyards, however, was the place to be this weekend. With its gorgeous scenery and beautiful architecture, simply taking a walk around Wente Vineyards makes for a fun afternoon. However, Wente pulled out all the stops this weekend, with wine tasting, catering, live music, and even a Santa Clause meet-and-greet. Long-time employee Debby takes pride in Wente's history of excellence, "Wente is actually the oldest family owned and continuously operated winery in the United States. We have our production facility over on Tesla and we've been making wine for almost 139 years. We are known as the first family-owned Chardonnay. We brought a clone of a Chardonnay grape from France over here and 85 percent of the Chardonnays that are grown in California now are grown from that grape. So, we're kind of a big deal." Debby goes on to talk about Wente's love of the holidays, too, "We've been doing 'Holiday in the Vineyards' for about ten years now. All the ambassadors here at Wente get to dress like elves and wear all out Christmas craziness. It's always a lot of fun. We have Santa here to come and hang out with us this afternoon. Having a special tasting for a day like today is really special." 
Wente, like all other participating wineries, featured a line-up of local vendors, including "Love Me Apparel" which saw a lot of foot traffic this past weekend. "I've been in business for eight years, and I was only online previously," explained owner Julie, "Eight years ago, my then-boyfriend, now husband, suggested I start my own boutique, and it just took off. We're definitely very trendy, casual, comfy, a lot of my pieces are a relaxed fit."
As part of their festivities, Wente Vineyards had live music for attendees to listen to while they shopped and drank. Guitarist and vocalist Tyler Gene is a Livermore local who looks forward to playing the event every year. "I perform around Livermore, this is my second or third season playing at Wente during the wintertime. As long as they keep calling, of course, I'd love to come back and play." Throughout the day, he included a mix of originals as well as covers into his setlist, creating the perfect atmosphere for a fun afternoon outing. Gene went on to say, "My favorite original song is a song called 'Carrying Around,' which is a song I wrote when I was 19 years old and reworked it and made it really cool. I'm always trying to do something new with my music. I always try to pull out some original songs when I play in public. I started playing guitar and writing songs in sixth grade. I started playing trumpet and was in choir. I was raised on country music, Bob Dylan and Ryan Adams are two artists I really look up to."
And finally, Santa Clause made an appearance at Wente Vineyards to spread holiday cheer, grant a few Christmas wishes, and hand out candy canes to kids as well as parents.
"Today, I've met around 30 kids and all of them, I'm happy to say, were on the nice list," said Mr. Clause. 
There was no doubt that "Holiday in the Vineyards" was a success, allowing Livermore to come together to enjoy live music, delicious food, and support local businesses.