10 Movies To Get You In the Halloween Spirit
It's Halloween season, which means costumes, parties, trick-or-treating, and movies! Halloween is a great time for movies as they can be anything from horror to family fun. While not every movie on this list is technically a Halloween or horror movie, they'll definitely get you into the Halloween spirit.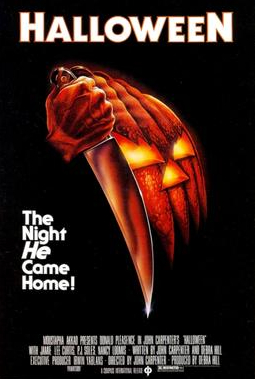 Halloween (1978): Starting with a standard scary movie, the 1978 film Halloween is a classic horror movie. Halloween includes one of the most iconic horror villains, Michael Myers. And it's not just the villain that makes this movie worthwhile, Halloween has an amazing cast and an overall great plot, which is hard to find in modern horror movies. While any horror aficionado knows this film, Halloween is a great pick for the holiday.
Corpse Bride: Corpse Bride is a fantastic stop-motion film that truly encompasses the Halloween spirit. Coming from director Tim Burton, this film is perfect for Halloween with a cast including Johnny Depp and Danny Elfman whose names are synonymous with Halloween. Corpse Bride might not be horror, but it certainly is perfect for the spooky season.
The Birds: One of the most iconic films by Alfred Hitchcock, The Birds is a thrilling movie that's supernatural as well as scary. While it's not a Halloween-inspired movie, it's definitely frightening and is ideal for Halloween. Full of suspense and a type of horror that only Alfred Hitchcock can pull off, it's worth a watch.
Coraline: Another film from Tim Burton, Coraline might be more well-known, but it certainly is great for this time of the year. It may be an animated movie, but Coraline still manages to spook you. Following the main character of Coraline, as the movie goes on everything seems to just get more twisted and dark. It's a great movie that encompasses the Halloween spirit.
Little Shop of Horrors: An iconic movie musical, Little Shop of Horrors is an action-packed, horror-esque film starring Rick Moranis. While it's another film that isn't based on Halloween, it has all the elements of any classic, campy Halloween movie. With a great plot, cast, and soundtrack, it's a great film to watch or rewatch for Halloween.
Carrie (1976): Turning back to true horror films, Carrie is certainly a scary movie. The 1976 film based on the classic novel by Stephen King, it's as if a coming-of-age movie became a horror film, with a dash of the supernatural. Any horror fan will certainly love this one. Carrie, or any Stephen King movie, is a great choice for Halloween.
Scream (1996): Would this be a Halloween article if we didn't include this classic? The 1996 film Scream is one of if not the most popular Halloween horror film. The entire movie is iconic, including such stars as Drew Barrymore, Courtney Cox, Skeet Ulrich, and David Arquette. Everybody knows Scream and it's the perfect way to celebrate Halloween.
The Addams Family (1991): While there have been many installments in this franchise, the 1991 movie The Addams Family showcases the spooky family in a fun, entertaining way. It's great for a laugh and for those who aren't into horror. It embodies all the things we love about Halloween and is a great, funny movie.
The Rocky Horror Picture Show: This 1975 musical comedy is perfect for the Halloween season. The Rocky Horror Picture Show is campy and fun and shares many elements with Halloween films, including supernatural beings from Transylvania and a Frankenstein-esque doctor. It's not family-friendly, but it's still an amazing movie and is great to watch in the theaters or at home.
The Nightmare Before Christmas: One of the best animated Halloween films, The Nightmare Before Christmas is a stunning stop-motion movie all about Halloween. With a stacked cast, amazing music, and directed by none other than Tim Burton, this movie is perfect. It's great for any occasion: a cozy night at home, a family movie night, or maybe a Halloween movie marathon. The Nightmare Before Christmas is flawless and a great choice for the scary season.