Athlete of the Week: Kekoa Barcinas
Granada's newest athlete of the week has the privilege of playing under the lights every Friday night in front of his entire community. Kekoa Barcinas has been playing football at Granada for four years, and has been part of the varsity team since he was a junior.
Barcinas has been playing football for five years, he started out in the Livermore Junior Football league and has worked his way up to high school football.
"There was no special reason. I just wanted to try it, and see if I was good at it", said Barcinas about why he decided to play football.
Every athlete has their reason why, Barcinas' inspiration to get on the field every week and play his very best is his uncle. "My uncle most definitely, he was one of my best friends and then he passed away."
Barcinas is a star wide receiver, a wide receiver is one of the fastest position on the team and is tasked to catch the ball when thrown by the quarterback. "This impacts the team because I can catch."
This season Barcinas has been untouchable, he is constantly piercing through the defensive line to get the ball up field. With the season coming to and end within the next couple of weeks, Barcinas is confident that everyone watching will see an even better player on the field. "No one will be able to guard me," he confidently said.
Football is one of the most popular sports in the country, and it takes a great work ethic to be known as the best. This requires training daily in order to put your body in the best shape and doing everything possible to keep your body healthy. "During the season I do a lot of in season training like speedwork and position specific training."
Barcinas has had the privilege of playing varsity for two seasons now, and over these seasons he has been very successful in scoring touchdowns almost every game and in helping his team. "To be successful it takes tons of hard work and dedication," said Barcinas.
Not only being an incredible catcher, Barcinas' greatest skill is being able to maneuver around players and dodge their tackles. "My greatest strength is probably my shiftiness."
Granada's homecoming against San Leandro High School did not disappoint, Barcinas took all the energy brought by the students and fans and performed like they have never seen him before. The matadors upset the pirates and sent them back to San Leandro and gave the matadors a win of 34-8. "A game that has stuck with me is definitely the San Leandro game. I played my best that game, and I scored two touchdowns," Barcinas highlights.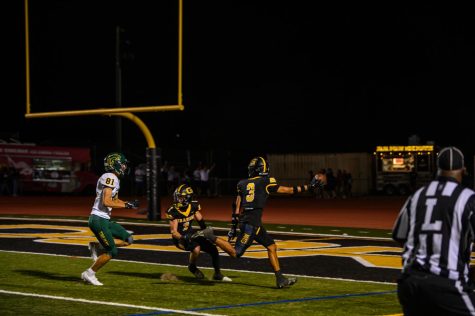 Last season at the peak of Barcinas' junior year, he faced a Lisfranc injury. A Lisfranc injury is an injury to the Lisfranc joint in your foot. This joint connects the metatarsal bones  to the tarsal bones. "I have had to overcome a couple injuries. I had a lisfranc injury that caused me to sit out for seven months," Barcinas recalls.
Being able to create a bond with the team is an important part of the game, Barcinas has been able to meet some of his best friends through this sport, and being able to bond with his team is his favorite part of football. "Definitely the team dinners. It's a good time for team bonding and spending time with the team."
Despite all the touchdowns and all the plays Barcinas has been able to complete, his greatest accomplishment is how he has been able to step up and lead his team. "As a football player I love being known as a leader."
There truly is something special about playing under the lights and Barcinas makes this known to everyone watching. The support from his family and friends means so much to him and helps his performance. "My favorite part is playing the sport I love in front of my family and friends."
With being a senior and having only two more home games, it is extremely important to never take any moment for granted. Barcinas has taken the overwhelming phrase of "last year, best year" and made it come true. "I am very sad that it is about to end"
Barcinas has accomplished so much in such little time and there is so much to be recognized for, but he is most proud of the person that he has become because of this sport. "Football has taught me to stay humble and always try your hardest."