Granada Profiles: Mrs. Erika Codelli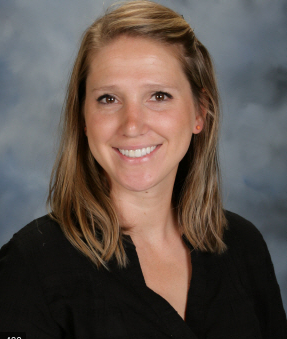 If you're familiar with Granada, you're probably familiar with Mrs. Codelli, a social studies teacher who has been teaching at Granada for almost two decades.
Mrs. Codelli, who has been at Granada for 16 years, has had a long teaching career but used to be a store manager for Hollister. She would switch to teaching quickly though as it seems to be the career she was destined to do.
It's no wonder Mrs. Codelli became a teacher, as she's "passionate about human connection and just making others feel valued, modeling kindness, and positivity, and connecting with kids."
The path to becoming a world history teacher was also clear as Mrs. Codelli was heavily inspired by her 7th grade history teacher who was able to bring history alive and had a great impact on her learning experience.
She was also influenced by her family's history, "As I got older, just knowing a little bit more about my family's history, and the connection to World War II, just made me really fascinated that there's so many different stories out there and different connections to history and sharing that passion with others." It was the many amazing teachers, coaches, and role models in her life that would lead her to a career in teaching.
It's also Mrs. Codelli's passion for helping others that is a clear reason she went into teaching, as she loves watching her students having fun on campus and, "…just seeing students interact in different capacities on campus, interact in my classroom, getting involved with clubs…and just seeing the students have a positive experience and finding a niche on campus that they really connect and resonate with." Mrs. Codelli's warm heart is what makes her unforgettable to her students as she feels her greatest accomplishment at Granada has been making students feel welcomed.
Outside of Granada, she still stays busy as she always hangs out with friends and family as well as taking care of her two kids who are also bright lights in her life. Mrs. Codelli also loves Livermore, stating, "I'm not from Livermore, I'm from Pleasanton, but I think Livermore is just a very unique place that is incredibly warm and welcoming, and I think it's becoming more diverse, which is intriguing to me and also exciting. I think it has the best of everything. I think it has something for everyone here."
While we hope she never quits, Mrs. Codelli thinks it would be fun to be a photographer for National Geographic. She also highlights that it would be fun to have any job where she gets to travel, even saying she would love to have a travel blog.
Mrs. Codelli is another one of the great teachers at Granada and is able to see and bring out the potential in all her students. Whatever grade you're in and whoever you're teacher is, Ms. Codelli is there for all students, "Come to 303, you're welcome any time."