Black History Month: Sidney Poitier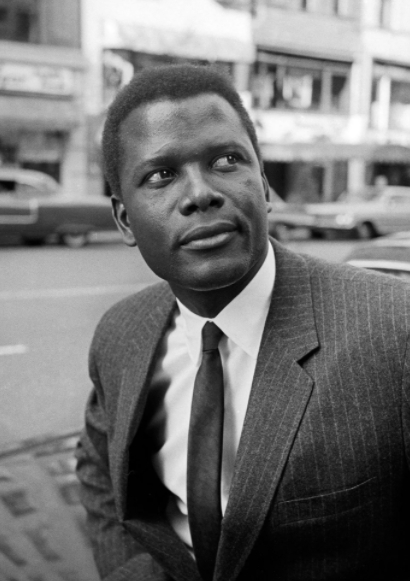 It's the first of February which marks the beginning of Black History Month. Every year we explore and celebrate Black history during the month of February. To start off this month the Pomegranate honors Sidney Poitier as we take a look back at his legacy.
Born in 1927 to immigrant parents from the Bahamas, Sidney Poitier grew up in a family that had to face the harsh realities of poverty and racism that existed in the U.S. Moving to live with his brother at 15 in Florida, he had to live through the Jim Crow era that was always present in life when living in the South. Not being able to stand the living conditions in Florida, Poitier moved to New York at the age of 16 to pursue acting. Although he would one day be launched into stardom, when he first arrived in the city he took many odd jobs in Harlem, finding work with the Army at a veteran's hospital.
Poitier would go on to audition for roles at the American Negro Theater, but after a harsh rejection spent many months working on his acting skills and suppressing his accent. He would get his first acting role in 1950 at 22 as Dr. Luther Brooks in the movie "No Way Out." Even with his first movie, Poitier would portray many characters that had problems due to their race. In "No Way Out" Poitier played the only African-American doctor at a hospital where he must treat two caucasian brothers. At the time "No Way Out" was released, it was not only huge to play a leading role as a person of color but to also be able to play a character that didn't represent Black stereotypes.
Sidney Poitier would star in many movies throughout the 1950s, including leading roles in "Blackboard Jungle", "Edge of the City", "Something of Value", and "The Defiant Ones." He would be recognized in 1959 for his work in "The Defiant Ones", where he played one half of a prisoner duo trying to escape custody, with the BAFTA Award for Best Foreign Actor. This would be huge for Poitier as well as many other aspiring actors as it was the first time a major international award was awarded to a Black actor. Also being nominated for an Oscar for "The Defiant Ones", Poitier already proved himself to be a remarkable actor, especially in an age where it was hard for Black actors to succeed.
He would be the biggest Black actor of the 1950s and became a hero for those who were a part of the civil rights movement. One aspect of Poitier's career that stands out was his refusal of any roles that portrayed African-Americans in a stereotypical way, instead playing characters that were intelligent and well-spoken. This is most notably shown in his roles in films such as "No Way Out" and "Blackboard Jungle" which both tackled topics of race and discrimination.
Poitier would gain even more fame in the 1960s with many big movies. Most notable of all being "Lillies of the Field", which would obtain Poitier a spot in movie history. In 1964 Sidney Poitier was the first Black actor to win the Academy Award for Best Actor for his leading role in "Lillies of the Field." Poitier opened many doors for Black actors but this achievement was a significant part of what he was able to do. While "Lillies of the Field" is what he would win an Oscar for, Poitier would star in many other remarkable movies throughout the 1960s which truly made him a star. He was in such huge movies as "A Patch of Blue", "The Bedford Incident", "In The Heat of The Night", "Guess Who's Coming To Dinner", and "To Sir, With Love."
Many of Poitier's films in this era also dealt with racially motivated issues, one of the most noteworthy being "In The Heat of The Night" where Poitier played a police officer accused of murder by a racist detective. Another film that became famous for its focus on race, a scene where Sidney Poitier slaps Detective Bill Gillespie, played by Rod Steiger, would come to be known as the slap heard around the world.
In the 1960s is also when Poitier would start his friendship with Martin Luther King Jr., who also connected him with the Student Non-Violent Coordinating Committee.  Through these new connections, Poitier would do much more for the civil rights movement. Although not a radical when it came to protesting, in 1964 he would take a trip down to Mississippi with fellow activist Harry Belafonte to aid the Freedom Summer campaign. Poitier and Belafonte had met long before that having worked together at the American Negro Theater before either could claim any fame. The pair traveled down to Mississippi with over $70,000 meant to help the Freedom Summer campaign, which was created to bring attention to the discrimination Black people faced in the South.
Poitier and Belafonte arrived at the airport in Mississippi and while driving away were attacked by members of the Ku Klux Klan, who were very rampant in the South during the time period. After having their car attacked and shot at, it was an incident that Poitier would never forget. This demonstration of violence did not help the reputation of the deep South and after returning home Poitier would vow to never travel below the Mason-Dixon line again. Although, he would break that vow only two years later to film one of his biggest movies, "In The Heat of The Night."
Through his many years on and off the screen, Sidney Poitier would help a new generation of Black actors, influencing many stars such as Denzel Washington and Will Smith. He was dedicated to the civil rights movement and changed the film industry for the better. Sidney Poitier was a great man, but in Martin Luther King Jr.'s own words, "He is a man of great depth, a man of great social concern, a man who is dedicated to human rights and freedom."