The Fight to End Human Trafficking: Granada's 24 Hour Race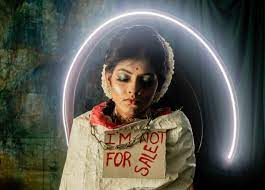 In the United States anywhere from 15,000-50,000 people are sold into human trafficking a year. Women and children are forced into sex trafficking rings while men are most often sent to labor camps to endure inhumane working conditions. Human trafficking expands beyond the United States and remains an international issue in desperate need of a solution. This March, a group of dedicated Granada High students will host the 24 Hour Race to do their part to end human trafficking. 
The 24 Hour Race is a nonprofit organization run entirely by young adults to end modern day slavery. Granada's 24 Hour Race represents the San Francisco/Bay Area sector of the organization, and is a long-standing tradition here at Granada. The race will take place on March 25 to 26, 2023 and will include dodgeball and basketball tournaments, laser tag, and, of course, the race itself. To join the fight against human trafficking, participants will form groups of 5 to 8 people and compete against each other in an effort to raise the most money and awareness as possible.
Executive director Sarah Suresh explains what the money will be used for: "We are generating money, as students, to donate it to help rehabilitate victims of trafficking. All of our money goes to a non-profit organization based in Hong Kong called A-21. A-21 helps provide support to victims of trafficking as they re-enter the world. So, we send all of our funds to Hong Kong." 
Directors and other members of the 24 Hour Race put a great deal of time and energy into planning the race, to ensure race day runs as smoothly and as effectively as possible. Students are not the only source of donations for the 24 Hour Race, local businesses are encouraged to help the cause as well.
Suresh continues, "We are expecting 400 participants this year, and our goal is to raise $50,000. Besides the tickets, we do try and get businesses, like Noah's Bagels, to donate to us as well." 
A huge part of the 24 Hour Race is the sponsorships set up between the race directors and other businesses.
Jasmine Branda is director of business and development, "My job is to make sure the event is zero cost, so that all the money we fundraise goes to victims of human trafficking. We work with businesses to create fundraisers and get donations of supplies and food, so we don't have to pay for that stuff." Since students will be at Granada High School for 24 hours straight, it is important that there be plenty of snacks and refreshments available to keep participants energized for the race. 
"This year, we're looking to get Olive Garden for dinner, that will be a big task. Last year, we worked with Melo's. We go door to door downtown to small businesses, we're trying to get donations from Safeway, that looks promising," said Branda.
In addition to ensuring Granada has the funds and supplies to host the race, the 24 Hour Race team must also advertise the race to ensure a big turn-out and, subsequently, more money raised. Sophie Yuan is the marketing director, meaning its her job to get the word out and recruit participants.
"I am in charge of, obviously, marketing. All the posters you see around school about the race, my committee and I made those, we run the Instagram account, basically make sure everyone knows what's going on with the 24 Hour Race," said Yuan. "Currently, we are working on the 24 Hour Race t-shirt design, that should be finished soon. We design the fliers, stuff like that."
Planning the 24 Hour Race has also pushed its leaders to learn new skills and get real-world business experience.
Branda elaborates, "I've been working on trying to get a 51C3 number for us, so that businesses can write off their donations on their tax returns and are more inclined to donate. I had to fill out an IRS paper and meet with the CPA, which was really intimidating, but I've learned a lot."

With race day in the coming months, the 24 Hour Race team is working tirelessly to ensure the $50,000 goal is met, holding meetings at least once a week, if not more. The work is no doubt exhausting, but the team insists the race is worth it. 
"It's cool to help a cause bigger than I am," said Yuan.
Suresh adds on, "I got involved my freshman year, and it's changed me forever. We never get this kind of direct involvement with a cause, get to help victims directly, like we do with the 24 Hour Race." 
The 24 Hour Race is an excellent opportunity for students to hang out, compete, and have fun together outside of school. By participating in the race, not only will students form lasting connections and instill a sense of community on campus, but they will also be doing their part to end human trafficking.