Granada Boys Cross Country Team Ranked Eighth in the Nation
With six of their top seven varsity athletes returning this year, the Granada boys cross country team is looking to do even better than their 2nd place finish at state last year. Coming into the 2022 cross country season, the boys team is currently ranked eighth in the nation according to tullyrunners.com, and was also stated as one of the top 30 boys teams to watch this season according to ca.milesplit.com. However, it isn't just the past 2 years that Granada's cross country team has been as strong as it is, as our school's cross country program has accumulated more NCS titles than every single other sport at Granada combined, with the girls team having not lost a single NCS championship in the past 7 years and placing 6th at state last year, and with the boys placing 2nd at state last year.
A lot of this success can be attributed to the Mattern brothers, the co-coaches of the team. Noel Mattern has been coaching the Granada cross country team for around 20 years, and his brother, Jeremy Mattern coached down in the Los Angeles area before moving up to Granada where his brother was.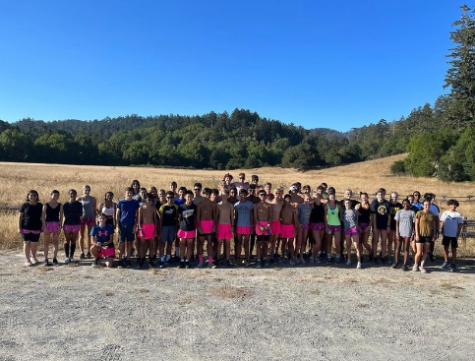 When asked about why he thinks the team is so good right now, senior Jake Walton said "I think the coaches are much more committed and driven… much more so than most other coaches".
Currently, both the boys and girls teams have three of the top five returning athletes in NCS this year, and the boys team is expected to take both the EBAL and NCS titles. When talking about competition, the team that will give the boys team the hardest time this year will be Newbury Park. Widely considered one of the best high school cross country teams of all time, if Granada wants to win state this year and prove their dominance in the sport, Newbury Park is the team they have to go through.
The cross country team also follows a tight training plan that involves running 11 times a week, with senior Dheeraj Gurusamy stating "We leave everything out on the track every time we practice, and we put in a lot of work".
Every single boys varsity runner on the team also gave a time goal of sub-15 minutes for the 5k this season, which when compared to the team's 5k times last year, is a big improvement. Now senior Roland Ruckman-Barnes ran an individual 2nd place time of 15:22.9 for the 5k at last year's state championships, one of the team's best 5k times that season.
Other accomplishments from the cross country team since 2006 include having 24 league championship teams across all EBAL levels, with 94 of those athletes earning varsity EBAL all-league recognitions. In NCS the team has had 11 NCS championship teams, with 45 athletes earning top seven medals, and six of those athletes being individual NCS champions. Finally, for state, the cross country team has qualified athletes for state every single year since 2006, has had four athletes earn top 10 medals at state, 9 top 10 state teams, and three podium (top 3) state teams.
"We have to push each other so we can be first, which we will be, because we're always first," said Farin Soriano